Russian Navy sends flotilla to Arctic to start permanent service at military base
Six vessels from the Russian North fleet have left their base in Severomorsk in the Barents Sea and set off for the New Siberian Islands, where a military base under reconstruction will start functioning later this year.
"The major goal of the latest expedition of the North fleet ships to the Arctic is to deliver personnel, equipment and property of the North fleet's tactical group, which starting this year is going to fulfill military service at the New Siberian Islands on a permanent basis," said the North fleet commander, admiral Vladimir Korolyov.
The six vessels currently on their way to the Arctic are submarine chaser "Admiral Levchenko", two large landing ships – "St George" and "Kondopoga", the tanker "Sergey Osipov", rescue tug "Pamir" and the lifting-and-mooring vessel "Aleksandr Pushkin".
RT correspondent Murad Gazdiev, who will spend two weeks on board one of the ships, says the flotilla was forced to spend several days in port, waiting for better weather.
Sailing in the Arctic can be quite challenging, so the North fleet's aviation arm will monitor the route to report any potential difficulties.
It is expected that the expedition might at certain moments need assistance from atomic icebreakers, which will be provided by the state corporation, Rosatom.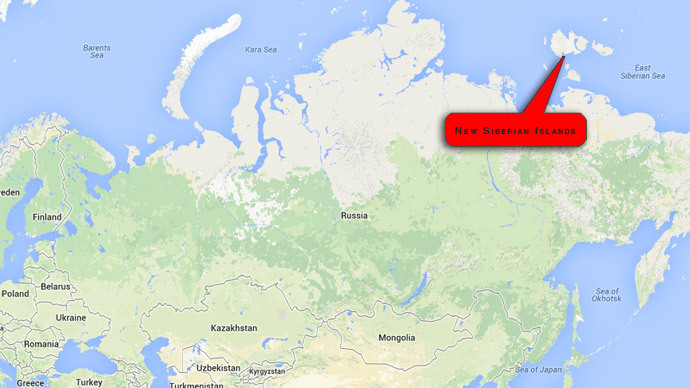 Moscow sent a first batch of equipment and supplies to the New Siberian Islands last year. This time, the staff and taskforce will be staying on to serve in the area where temperatures can fall to minus 50 degrees Celsius.
The biggest among the islands, Kotelny, housed a research station and a military base from 1933 to 1993. The next two decades saw both abandoned.
The decision to revive the military base was made by president Vladimir Putin. In 2013, a flotilla headed by the flagship of the North Fleet, nuclear-powered guided-missile cruiser "Pyotr Veliky" ("Peter the Great") delivered equipment to the New Siberian Islands to restore the local Temp airdrome.
Canada's foreign minister, John Baird, lashed out at Russia in August for reviving the Soviet-era base off its northeastern coast. He told Denmark's Berlingske newspaper that Ottawa was "determined to promote and defend the sovereignty of Canada in the Arctic" in the face of the Russian threat.
Russia's Foreign Minister Sergey Lavrov dismissed Baird's accusations as "nonsense".
Vladimir Putin later said that Russia was determined to defend its interests in the Arctic, but will only do so in compliance with international law.
"Many are wary of our efforts [in the Arctic], are scared by them. We have said many times that we will only act within the framework of international law, as we have always done and are going to do in the future," Putin said.
You can share this story on social media: