​European farmers not to receive full Russian embargo compensation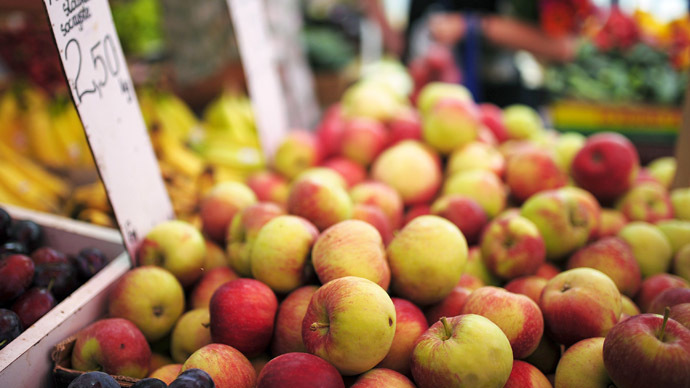 Farmers in Europe affected by the Russian food embargo will not receive full compensation, German Agriculture Minister Christian Schmidt has said.
He wanted to clarify the situation to avoid people getting the wrong impression that "there would be one-to-one compensation. There can't be that," AFP quotes Schmidt's Tuesday interview on German public radio.
However, Schmidt promised there would be compensation in the form of support to get a better "grip on the market."
He also urged people to consume more.
"Eat! You should eat, I should eat, we should eat... Beginning in the early morning, five times a day," Schmidt said.
Later on Tuesday Schmidt met with French counterpart Stephane Le Foll and Polish Agriculture Minister Marek Sawicki to discuss the effect the Russian food embargo has had to the agricultural sector, ahead of a wider gathering of EU agriculture ministers in Brussels on Friday.
"Our aim must be to minimize the impact for those concerned, and also find new markets to cushion against future crises," Schmidt said in a statement after the meeting.
European exports to Russia of products ranging from fruit to cheese to shellfish were worth $16 billion in 2013 - about 10 percent of the bloc's total farm exports. Russia is the EU's largest export market for food and agricultural goods.
Last week the EU promised help to farmers, announcing measures to expand aid to dairy producers after initial steps to help certain fruit and vegetable growers.
In terms of losses, Germany, Poland and the Netherlands - the top three EU food suppliers to Russia in 2013 - will be hit hardest. Food destined for Russia makes up around 3.3 percent of total German exports totaling $1.83 billion in 2013.
Poland is the leading exporter of apples and one of those countries feeling the greatest impact from the Russian food ban. It has urged its people to eat more apples and asked the US to quickly open its market.
READ MORE: Who is hit hardest by Russia's trade ban?
On August 7, Russia introduced a food ban on imports from the European Union, the United States, Canada, Australia and Norway in response to the sanctions imposed over allegations of its involvement in the Ukrainian crisis. The one-year embargo targets meat, fish, dairy, fruit and vegetables among other products.
Several countries, including Australia, Austria, Poland and Latvia, have said the Russian food ban has dealt a blow to their economies.
You can share this story on social media: