Switzerland to EU: We don't want to sidestep Russian food ban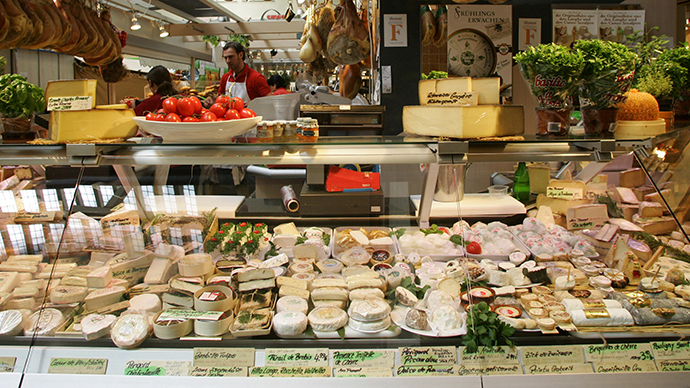 Switzerland has said it will not re-export European agricultural products to Russia that now can't get access to the country's market.
"We have had requests from European countries, including the producers of fruits, vegetables, dairy products and meat, but we didn't give permission to have their products imported to Switzerland and then exported to Russia," as ITAR-TASS quotes Jurg Jordi, a spokesman at the Swiss Federal Office for Agriculture.
READ MORE: European companies ask to ship blacklisted food through Switzerland to Russia
Swiss legislation requires certifying food exports for hygiene, which it can't do if the products are processed outside its borders, Jordi told the Wall Street Journal (WSJ).
The newspaper writes that Moscow's embargo on imports of some food products from the EU, introduced early August, did not affect Switzerland as it did not apply wide sanctions against Russia.
"As such the Russian ban on EU cheese imports hasn't had much of an effect on us yet," the WSJ quotes Daniel Daetwyler, the Chief Executive of InterCheese.
The most popular goods Switzerland exports to Russia are cheese and coffee, which combined were worth around $220 million in 2013 or 2.4 percent of Switzerland's total food sales abroad according to the Customs Administration.
Because Switzerland is not a member of the EU it has stayed fairly neutral over the sanctions imposed on Russia. However, it has seen a benefit in increased cheese sales to Russia as supplies from France and the Netherlands run out.
Switzerland's measures against Russia fall short of the broader economic sanctions the EU and the US have introduced, having halted the sale of defense equipment and tightened the ban on Swiss financial intermediaries.