Kenya bags big deals with China
The two countries have signed business deals covering the ICT, health, and engineering sectors, President William Ruto has announced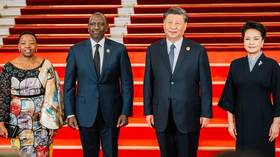 Kenyan President William Ruto announced on Tuesday that 11 Chinese companies are set to invest over $160 million in Konza Medical City, a government-led healthcare initiative aimed at providing universal health coverage throughout the African country.
"I am delighted for the 11 companies which have launched the Konza Medical City, their $161.7 million special purpose investment vehicle, which arrives in Kenya on time to take advantage of the Universal Health Coverage, as well as Zhende Medical Co., which is entering a deal to invest $125 million in Tatu City,"' he stated.
Ruto made the announcement while addressing the Kenya-China investor roundtable in Beijing on the sidelines of the third Belt and Road Forum for International Cooperation.
Kenya and China also signed business agreements covering an array of sectors, including ICT and engineering, with some of the Chinese investors ready to invest in existing projects and others in new initiatives, according to President Ruto. Local media reported that the deals between the Kenya Chamber of Commerce and Industry and its counterpart in China are worth 63 billion Kenyan shillings ($421 million).
The East African country's leader believes the deals "demonstrate the investors' strong faith in China's visionary Belt and Road Initiative, show profound faith in the dynamic Kenya-China Strategic Comprehensive Partnership, and exhibit tremendous confidence in Kenya's bottom-up economic transformation agenda."
According to government statistics, as of last year, China has become Kenya's leading trading partner. While Beijing's exports to Kenya currently stand at $3.8 billion, according to Ruto, the Chinese Ministry of Foreign Affairs said Nairobi's total exports to China reached about $270 million in 2022.
In a statement on X (formerly Twitter), Ruto touted Nairobi as a friendly business environment with broad trade opportunities, good infrastructure, and a large pool of skilled labor, guaranteeing investors a high return on investment.
Earlier on Monday, Kenya's Ministry of Energy and its Chinese counterpart signed a memorandum of understanding that will improve the flexibility and reliability of the African country's electrical grid.
Leaders and delegations from around the world are in Beijing for a two-day conference marking the 10th anniversary of China's Belt and Road Initiative (BRI).
On Monday, Ethiopia's government announced that Prime Minister Abiy Ahmed, who is in Beijing for the forum, had signed 12 cooperation agreements with China.
Meanwhile, Nigerian Vice President Kashim Shettima, who is representing Abuja at the BRI forum, met with his Chinese counterpart, Han Zheng, on Tuesday. Both leaders reiterated their commitment to "enhance political mutual trust, advance practical cooperation, and better develop bilateral relations between the two countries," the Nigerian government said.
You can share this story on social media: