#ImpeachTrump lights up Twitter but are there any grounds?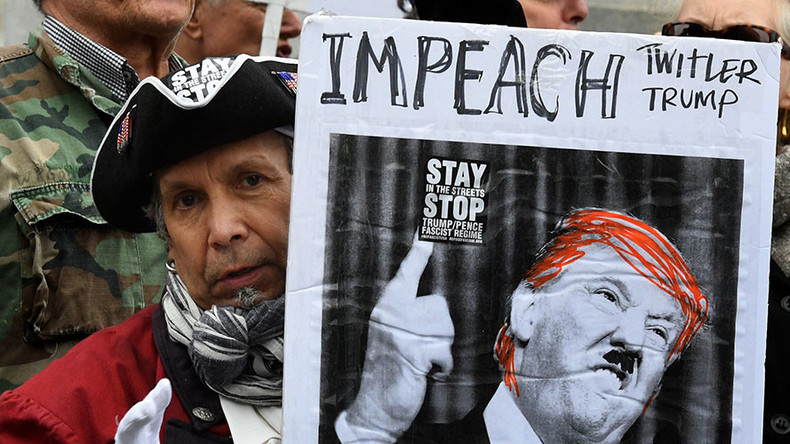 US President Donald Trump's comments that both left and right-wing protesters were responsible for Saturday's mass violence in Charlottesville, Virginia has created a clamour online for his impeachment – despite not being grounds for the move.
Trump was criticized for his delayed response in denouncing the white nationalist rally in Charlottesville, during which a counter-protester was killed by an alleged neo-Nazi.
Heather Heyer, 32, was fatally injured when a car smashed into a crowd of antifa demonstrators protesting the 'Unite the Right' rally.
READ MORE: What about the 'Alt Left'?: Trump sets off more outrage with new Charlottesville comments
On Tuesday, Trump blamed both sides for the violence in Charlottesville and questioned the role of demonstrators he termed the "alt-left."
"What about the alt-left that came charging at the, as you say, the alt-right? Do they have any semblance of guilt?" Trump asked. "Let me ask you this, what about the fact they came charging with clubs in the hand, swinging clubs? Do they have any problem? I think they do."
Just hours after the president's press event at Trump Tower on Fifth Avenue, calls for his impeachment began to trend on Twitter.
READ MORE: 'Both sides to blame' for Charlottesville violence, Trump says
Other people were quick to point out that the president's reaction, whatever your political views on his comments, is not actually grounds to force him from office under impeachment.
According to Article II of the US Constitution, the president can be impeached only if they have been found guilty of "treason, bribery, or other high crimes and misdemeanors."
The last president to face impeachment was Bill Clinton, who was the subject of a senate trial in 1999. He was found not guilty of lying under oath during an investigation into sexual harassment allegations in Arkansas, which subsequently revealed his relationship with White House aide Monica Lewinsky.