Putin trolls rich Rostec exec while buying ice cream for entourage at MAKS Air Show (VIDEO)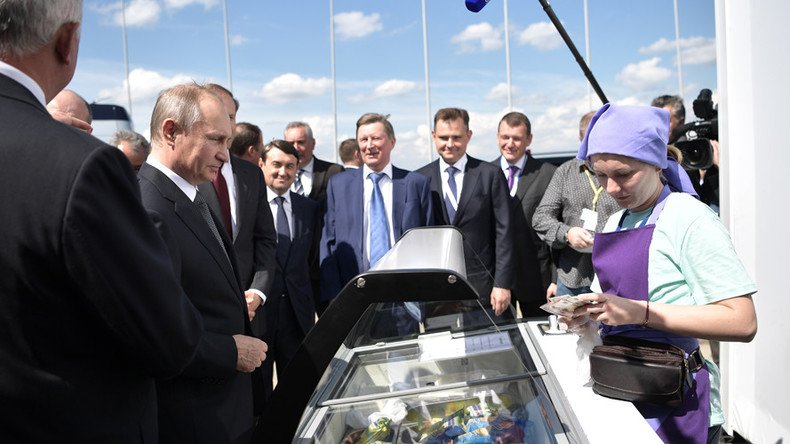 Vladimir Putin broke away from a showcase of Russia's technological prowess to buy his entourage ice cream at the MAKS 2017 Air Show outside Moscow.
"What are you going to treat us to?" asked the Russian president, after approaching an outdoor freezer staffed by a young woman.
After being presented with the choices, Putin picked a classic vanilla cone, handing over a 1,000 ruble note, worth about $17.
Putin asked the server to give accompanying officials the change, with orders pouring in from every direction.
"Check, is that enough?" asked Putin.
The seller admitted that she lost count, at which point Sergey Chemezov, the head of Rostec, Russia's state-owned manufacturing behemoth, pulled out and handed over a 5,000 ruble note.
"What were your profits this year – 80 billion roubles ($1.4 billion)?" said the Russian leader, turning to Chemezov. "You can afford it."
After managing to eat his ice cream cone in front of journalists without spilling it – a harder task than it looks – Putin was asked about the treat.
"I recommend it," replied the Russian president.
You can share this story on social media: