Homeowner cheats death as SUV crashes into his roof (VIDEOS, PHOTOS)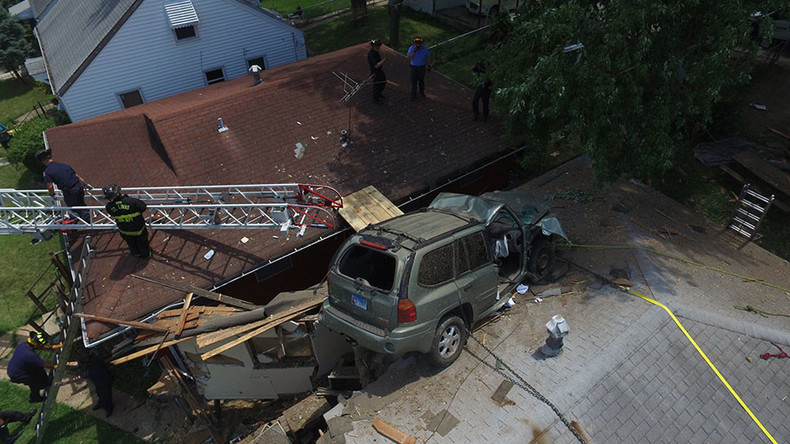 A Missouri resident's gym schedule may have helped him to dodge death, after an SUV tore through the roof of his house while he was attending a workout session.
The incident happened in Walnut Park West, St Louis, when a vehicle hit an embankment in a residential area and was launched onto the roof of a nearby dwelling, reported the St Louis Post Dispatch.
READ MORE: Fireball freeway: Crashing plane snaps power lines, nobody dies (VIDEO)
According to the St Louis Fire Department, the sole occupant of the vehicle is recovering in hospital, where their condition is described as "critical."
"The vehicle's occupant was rescued and transported by [ambulance] in critical condition. The homeowner returned home from the gym to discover the incident," a statement by the department read.
Footage of the aftermath shows the path the wayward SUV took across a lawn, before it took flight and smashed into the left side of a wood panelled house.
READ MORE: Fatal Florida plane crash caught on CCTV (VIDEO)
"A vehicle propelled up the front lawn or hill of this occupied, one storey dwelling," a member of St Louis' Fire Department collapse task force explained in the video.