Runaway camel deserts circus, leads cops in low-speed pursuit (PHOTOS)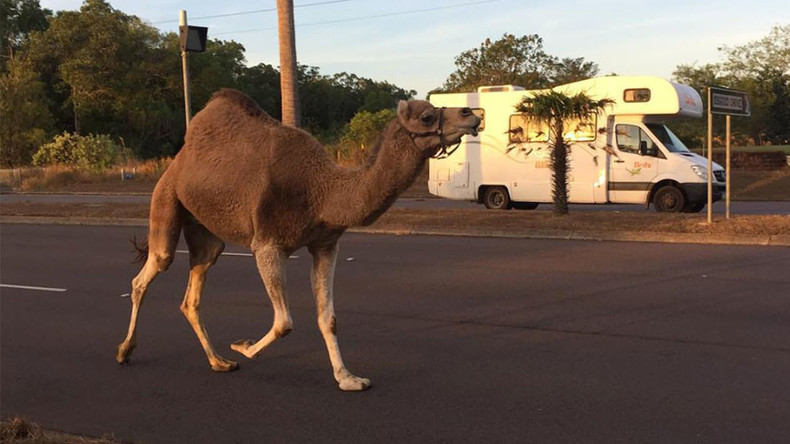 An Australian circus camel led police on a daring chase through Darwin after escaping work for the day. The escapade led the animal down a busy road before a final stand off with police on a golf course.
"Apologies about the unfortunate arm placement, it's the only photo we had!" Northern Territory Police said in a post along with an image of the escaped camel in which an officer's arm is curiously placed. "And it wasn't even hump day!" they joked in the post.
The diva camel escaped from Circus Royale on Darwin's Bagot Road on Monday afternoon.
One witness posted an image to Instagram of the animal making a dash for freedom down the busy road, telling ABC she heard a group of people attempting to catch the camel telling each other "don't run or the camel will run more."
"When they tried to catch it, the camel started to run and cross the road," Meng-Hsuan Lee said.
The camel's downfall came through its irresistible urge to play a round of golf. After venturing onto a golf course belonging to the Royal Australian Air Force, it was finally secured by police who handed it over to circus personnel.
"At least they managed to catch it before it caused any more problems," police duty superintendent Rob Burgoyne said.
Golf courses have become popular destinations for unlikely animals in recent months, with a Florida alligator sharing the camel's interest and bringing the entire family for a day out to a course.
READ MORE: 'Mama gator' filmed with 16 babies strutting across golf course (VIDEOS)