Florida police say Venus Williams was driving 'lawfully' before fatal crash (VIDEO)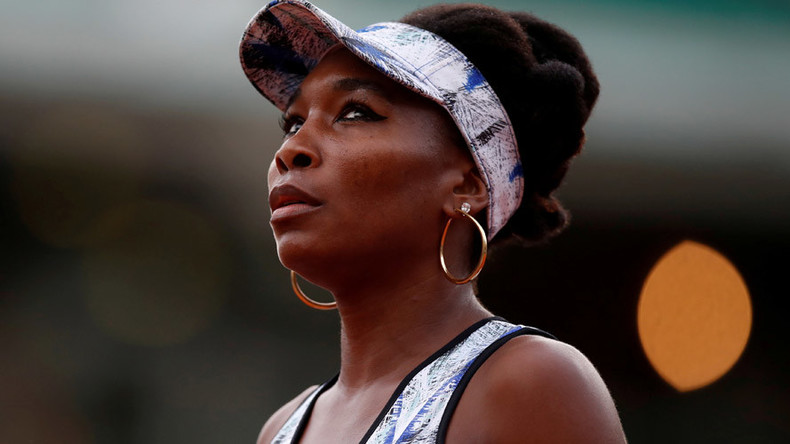 Florida cops have rolled back on their claim that Venus Williams was responsible for a fatal car crash after the discovery of CCTV footage showing the tennis player driving lawfully.
READ MORE: Venus Williams involved in fatal car crash in Florida
Palm Beach Gardens Police had said that Williams was "at fault for violating the right of way" prior to the June 9 crash that killed 78-year-old Jerome Barson. At the time, the tennis star was said to have ran a red light.
The Barson family has filed a wrongful death lawsuit against Williams.
However, a police statement released Friday said new evidence in the form of video surveillance footage showed that Williams "lawfully entered the intersection on a circular green traffic signal".
A police investigation into the crash found Williams stopped in the intersection to let another car pass in front of her. Just as Williams drove off again, Barson's wife, Linda, came upon a green light and entered the intersection from one side and the two vehicles collided.
The investigation into the incident is ongoing, police said, and there is no final determination over who was at fault.
READ MORE: Towel tussle: Fan served online anger after snatching Wimbledon keepsake from youngster (VIDEO)
Questioned about the incident at a press conference following her first-round victory against Elise Mertens at Wimbledon Tuesday, Williams broke down while saying the incident "devastating."
It is the first time she has spoken about the tragedy publically.
On July 1, the tennis star took to Facebook to issue her condolences to the Barson family.
"I am devastated and heartbroken by this accident," her post read.