Bloodied man tied up by passengers after fear of flying leads to extreme drunkenness (VIDEOS)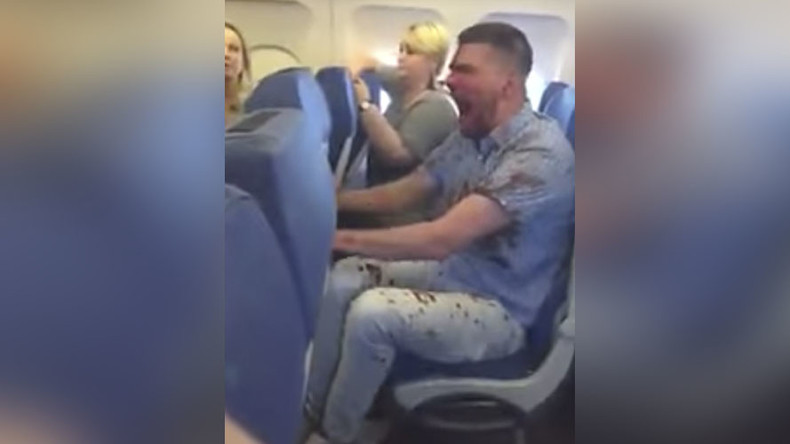 A bloodied Russian man had to be tied up by fellow passengers on his very first plane journey, after he tried to quell his fear of flying with alcohol. The man, who was screaming and punching the seat in front of him, was reportedly detained upon landing.
Videos posted online show the man - who was reportedly drunk - sitting in an aisle seat of the Red Wings flight, which was traveling from Moscow to Antalya, Turkey.
His face and clothes are covered in blood as he screams, punches the seat in front of him, and shouts obscenities.
Warning: Video contains language which may offend some speakers of Russian
Fellow passengers are later seen forcing the man to lie down while they restrain him, tying him up with seatbelts.
The man is later seen sitting upright again, his right arm tied with seatbelts, as a passenger sitting behind him wraps his arms around the man's neck to keep him seated. At one point, the man's ankles also appear to be tied together.
According to M24 news, flight attendants initially confiscated the man's alcohol, promising to return it upon landing. That angered the man, prompting him to walk through the cabin demanding a drink.
At that point, flight attendants attempted to tie him up, but the passenger resisted, hitting his face on the back of a seat.
Komsomolskaya Pravda reported that the man had been traveling with his wife and two children - all three of whom returned to Russia after the incident, instead of enjoying their planned vacation in Antalya.
Police were waiting to detain the man when the plane landed in Turkey, Komsomolskaya Pravda reported.
It's not the first time an unruly passenger has been restrained by fellow travelers - or even the pilot.
Last year, the pilot of an American Airlines flight was forced to leave the cockpit to deal with a passenger who spat, cursed and knocked a flight attendant to the floor.
Earlier that year, a Paris-bound flight was forced to re-route after one passenger urinated on another one.
You can share this story on social media: