Landing a blow: Pilot confronts belligerent passenger on American Airlines (VIDEO)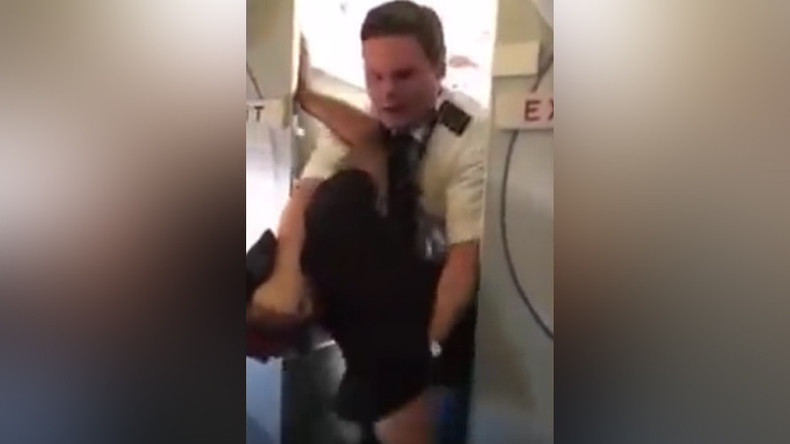 Airline passengers behaving badly is not unheard of, but rarely is the pilot forced to get physically involved. However, this was recently witnessed on a flight bound for Charlotte, North Carolina: A passenger spat, cursed and even knocked a flight attendant to the floor.
The newly released video, first obtained by the Lexington Herald-Leader, shows an unruly passenger on an American Airlines flight to Charlotte, North Carolina, being subdued by a pilot after he ignored directives from flight stewards to "take a seat!"
In the video, Michael Kerr from Lexington, Kentucky, threatened to break the pilot's jaw. After trying to force himself off the plane, and knocking a flight attendant to the floor, the pilot clearly had enough, taking Kerr to the aisle floor.
"You don't put your hands on my flight attendant!" the pilot said.
While on the ground, Kerr repeatedly yelled at the pilot.
"Whatever you do is going on Facebook, and you're a…complete…loser. You heard me right the first time."
The witness and videographer of the scramble, Brian Colon, told the Herald-Leader that the plane was taxiing and waiting for the jet bridge to arrive at the exit door when the passenger started screaming, "let's go, go."
A flight attendant asked Kerr, who is heard on the video slurring his words, to sit down. He refused.
Colon said the door of the plane was open, but the bridge wasn't yet in place when the incident happened. He said it took 15 to 20 minutes for police to arrive.
An FBI affidavit from the incident said it took the pilots and multiple Charlotte-Mecklenburg police officers to drag Kerr off the plane on July 21, after he threatened, shoved, kicked and spat at several flight attendants as the American Airlines flight taxied to the gate at Charlotte Douglas International Airport.
The affidavit alleged Kerr drank three Jack Daniel's whiskey drinks while onboard, before becoming combative with flight attendants.
Kerr was arraigned in federal court on Monday and charged with being intoxicated and disruptive, assaulting a female, communicating threats and interfering with a flight crew, according to the Charlotte Observer.
Kerr was released on $20,000 bail bond. He is banned from flying on commercial airlines, and barred from contacting the flight attendant who is undergoing physical therapy for her injuries.
You can share this story on social media: