Wildfire rescue: Firefighters save baby deer from certain death (VIDEOS, PHOTOS)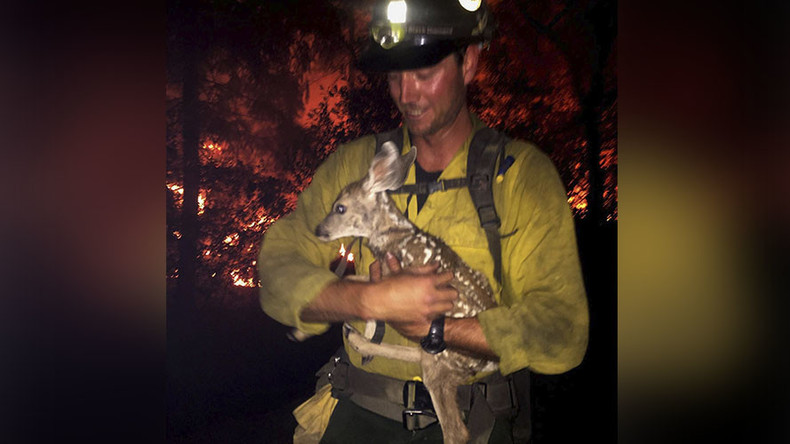 The Goodwin Fire is raging through the pine forests of central Arizona but amidst it all, members of the Flagstaff Hotshot crew became heroes with the heartwarming rescue of two stranded fawns.
"There was a 100 percent certainty that these fawns were going to die," Kale Casey, a spokesman for the Goodwin Fire incident management team, told the Washington Post.
Thankfully, photographers were on hand to capture the brave act.
The situation was unusual as typically, firefighters in wildfire situations do not attempt to rescue wildlife but concentrate on saving human lives and property, usually encountering animals when it is already too late.
"There's no standard operating procedure for this. This is simply an act of what hotshots do," Casey said.
"It's not uncommon for hotshots to see burnt and severely wounded animals that are beyond saving after the fire," Casey said. "There's just not the manpower or it's not feasible to be able to start transporting injured, fully grown elk or deer or moose or bear."
Both fawns were placed in a local wildlife habitat before being transported to a rehabilitation center to fully recover from injuries sustained while caught in the inferno.
The blaze began on June 24 in the Bradshaw Mountains, roughly two hours from Phoenix. The Goodwin Fire has so far destroyed more than 28,000 acres of land.
Three quarters of the fire was contained by Monday afternoon and authorities expect the entire blaze to be under control by Tuesday evening. The cause of the fire is not yet known.