Trump's CNN wrestling gif doesn't violate our rules – Twitter
Published time: 3 Jul, 2017 10:49
Edited time: 4 Jul, 2017 13:41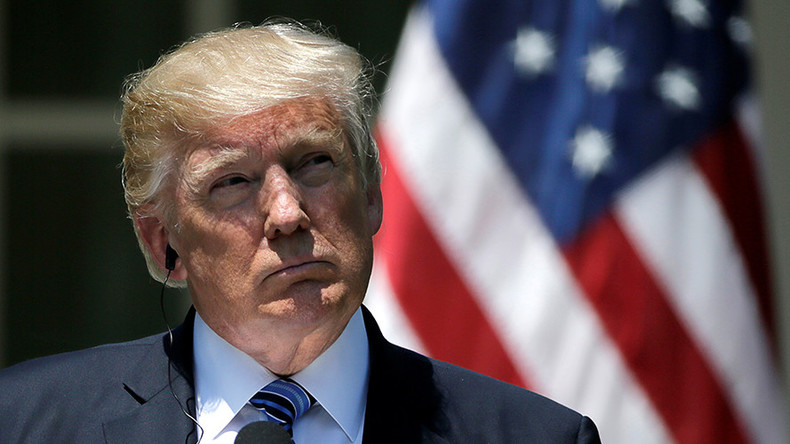 Twitter says Donald Trump's latest tweet featuring a video of the US president wrestling a personified CNN logo does not violate its 'hateful conduct or abuse' policy.
The tweet, sent by Trump on Sunday, features video of the president's past appearance at World Wrestling Entertainment's (WWE) WrestleMania event. The video has been edited to show a CNN logo in place of the face of the man Trump 'beats up'. Trump sent the tweet with the hashtags, "FraudNewsCNN" and "FNN."
READ MORE: Trump lays the smackdown on CNN in bizarre tweet (VIDEO)
Amidst calls to have the president suspended from the social network, Twitter told CNN it considered three factors in its decision; the political context of the conversation around the tweet, the different ways it could be interpreted and the lack of details in the tweet itself.
Please RETWEET THIS if you want Twitter to suspend Trump's account for repeated crimes, civil offenses, and violations of terms of service. pic.twitter.com/qHlwsJ1XaG

— Seth Abramson (@SethAbramson) July 2, 2017
Twitter rules state an account can be suspended for making violent threats, harassment, or attacking people over their race, religion or gender.
Trump sent the tweet as part of an ongoing attack campaign against CNN, which the president describes as fake news. He increased his criticisms of the network last week following its retraction of a story on Russia and the release of video clips by conservative outlet Project Veritas showing CNN employees saying the Russian election meddling story is lacking in merit.
Earlier in the week, Trump responded to accusations he's being unpresidential in his conduct on Twitter by claiming his tweeting was "modern day presidential."
My use of social media is not Presidential - it's MODERN DAY PRESIDENTIAL. Make America Great Again!

— Donald J. Trump (@realDonaldTrump) July 1, 2017
The wrestling tweet is thought to have been created by Reddit user HanAssholeSolo who rejoiced at his video being used by the president. Quartz reports the user has since deleted a number of Islamophobic, racist and homophobic comments on the site.