Trump lays the smackdown on CNN in bizarre tweet (VIDEO)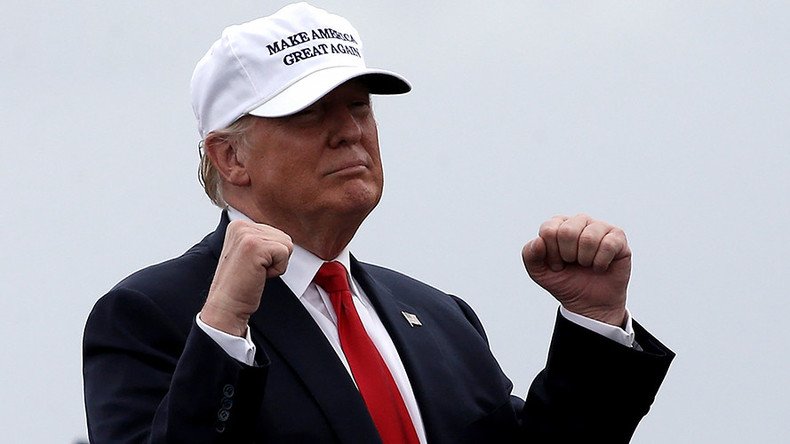 US President Donald Trump has taken his 'war' with the media to new and ever more bizarre heights with a tweet showing him laying the smackdown on CNN.
The altered 28-second clip is taken from the president's appearance on the WWE flagship Wrestlemania show back in 2007. An angry Trump rushes WWE owner and president Vince McMahon while the referee is (of course) unconscious, using a time-honored WWE trope to take McMahon down.
More recently, someone – perhaps even the president himself – superimposed the CNN logo onto McMahon's face, showing the president taking down his MSM foe.
The WWE Hall of Famer (yes, the President of the United States is also a wrestling hall of famer), also rebranded the network the 'Fraud News Network' on social media.
Trump has been buoyed by a number of revelations about CNN over the past few weeks.
This month, a network producer was filmed on a hidden camera admitting the Russia hacking narrative is "bulls**t" designed to drive ratings. Last week, three CNN journalists were forced to resign over a Trump story which the network retracted.
"The fake media is trying to silence us, but we will not let them," Trump said at a veterans event Saturday. "The fake media tried to stop us from going to the White House. But I'm president, and they're not."
"The fact is the press has destroyed themselves because they went too far. Instead of being subtle and smart, they used a hatchet. And the people saw through it right from the beginning. The dishonest media will never keep us from accomplishing our objectives on behalf of our great American people," he added.
READ MORE: Trump: Fake media trying to silence us, but people know the truth
CNN responded to the president's tweet, saying he should focus on the task at hand instead of resorting to "juvenile behavior far below the dignity of his office."
Trump's CNN wrestling tweet struck a chord with supporters and critics alike. So far, it has been retweeted over 100,000 times and generated a discussion thread some 55,000 comments long.
You can share this story on social media: