'We'll need a boat': Heavy rainfall hits Russian capital (PHOTOS, VIDEOS)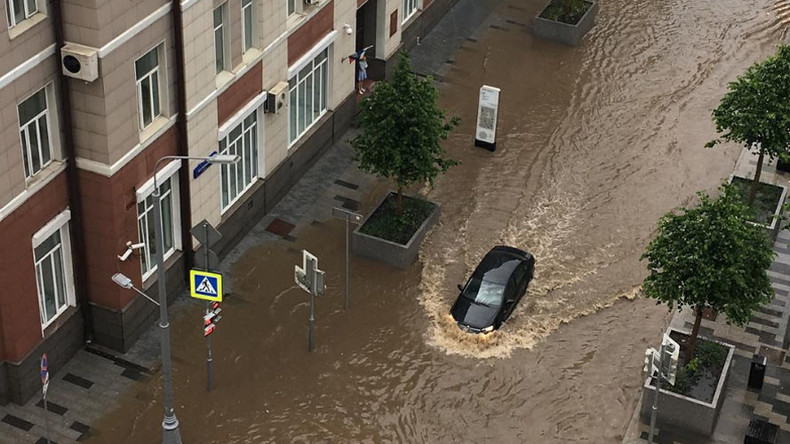 Heavy rain has hit Russia's capital, Moscow, briefly turning streets into turbulent rivers, as well as flooding social media with photos and videos.
Massive rain and stormy winds hit Moscow on Monday afternoon. Moscow's emergency services released a warning ahead of the storm, announcing "heavy rain, thunderstorms, hail and a squally south-west wind peaking at 18-23 m/s (40-51 mph)," and advising citizens to take shelter. The storm warning will remain in place till Tuesday morning.
READ MORE: June snow in Moscow – just as Trump pulls US out of Paris climate deal (PHOTOS, VIDEOS)
There have been no immediate reports of damage and casualties caused by the storm.
Those who braved the weather experienced the rain at its worst.
A video shows a man finding it out the hard way that an umbrella would not provide protection from the bad weather, as cars "sailing" along a street splashed him.
Another set of videos from the vicinity of the Moscow State University building, as the center of Moscow was flooded during the storm.


People rushed to take shelter in underground crossings.
Street flooding caused car engines to cut off.
"Five more minutes of that rain and we should go by boats," the caption reads.
Some online users even jumped on the conspiracy theory bandwagon, discussing an "American weather bomb" as a potential cause of the storm.