June snow in Moscow – just as Trump pulls US out of Paris climate deal (PHOTOS, VIDEOS)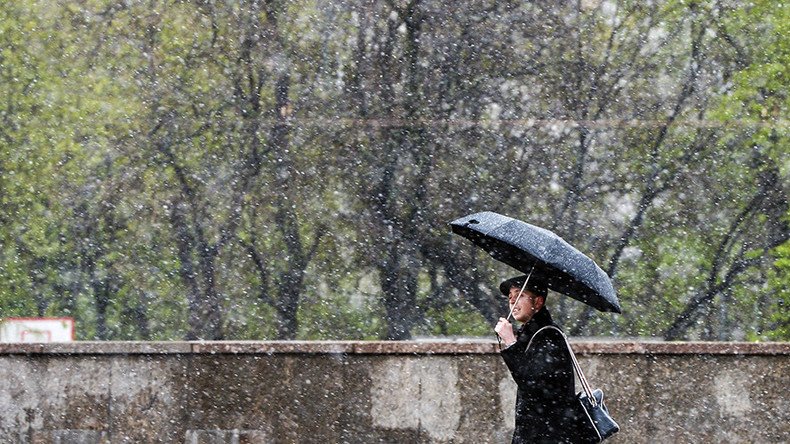 While most countries in the northern hemisphere are enjoying warm weather and sunshine, fresh snow has fallen on the Russian capital – just one day after Donald Trump pulled the US out of the Paris climate change accord.
Photos and videos posted on social media resembled the beginning of winter, rather than the second day of June and the second official day of summer.
"Well, where is this global warming?" one person joked, posting a video of large hail stones. She added that she should be wearing shorts and sandals this time of year, but instead was wearing a jacket and boots.
Another video showed a driver on the Moscow roads, bewildered at the snow falling on his windshield.
One video appeared to show the sun shining as the snow fell, in a truly odd display of "summer" weather.
The confusing weather brought with it temperatures anything but ordinary for June, with a Friday seeing a low of 3C (38F).
Ominous-looking skies were also part of Friday's weird weather in the Russian capital.
The "summer fail" in Moscow comes just one day after US President Trump – a skeptic of man-made climate change – pulled his country out of the Paris climate change agreement, in a move which shocked and angered world leaders and environmental activists around the globe.
The coincidence wasn't lost on Russian President Vladimir Putin, who on Friday was in St. Petersburg attending an economic forum.
"In Moscow it's raining and cold and even, they say, some snow. Now we could blame this all on American imperialism, that it's all their fault. But we won't," he joked.
Trump's decision fulfilled a campaign promise, and thus wasn't entirely surprising – especially considering the president's previous statements on climate change.
According to Vox, which analyzed Trump's Twitter posts, the leader has tweeted about his climate change skepticism 115 times.
Among those tweets is Trump referring to climate change as "bulls***" in 2014.
He also criticized his predecessor, Barack Obama, in 2015, for referring to climate change as "the most important thing."
You can share this story on social media: