Hang 'em high: Mrs. Wallenda beats husband's teeth-hanging record over Niagara Falls (PHOTO, VIDEO)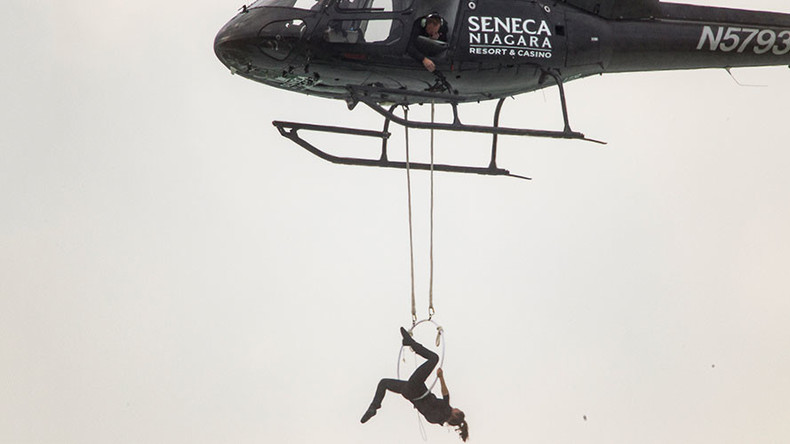 Renowned daredevil Erendira Wallenda completed her most dangerous task yet by hanging from a helicopter over Niagara Falls using just her teeth and a hoola hoop. The stunt apparently stole a record from her husband, Nik.
Wallenda, a well-known aerialist, was tethered to a hoop suspended from a helicopter some 300 feet (91 meters) above the violent waters on Thursday. She had a safety harness around her waist to comply with New York State law for stunts that occur more than 20 feet in the air.
Hundreds of onlookers stood by in shock as the 36-year-old mother-of-three hung by her teeth, with the use of a mouth guard, and performed a number of poses including handstands and splits.
Wallenda is the wife of famed tightrope walker Nik Wallenda, who pulled off a stunt of his own in the same place exactly five years ago by tightrope walking across Niagara Falls himself.
READ MORE: Zip wire 2.0: Human 'tennis balls' flung from Eiffel Tower at 90kph (VIDEOS)
Her stunt also stole the Guinness World Record from Nik, who had entered the record books in 2011 for hanging by his teeth 250 feet (76 meters) above Silver Dollar City in Branson, Missouri.
Following the stunt, Wallenda said she was surprised by how windy the conditions were, and even signaled to her helicopter pilot to fly higher during the routine to get away from the intense wind and spray.
The city and Niagara County Legislature each donated $35,000 to the production of the stunt in an effort to boost tourism, reports AP.