Zip wire 2.0: Human 'tennis balls' flung from Eiffel Tower at 90kph (VIDEOS)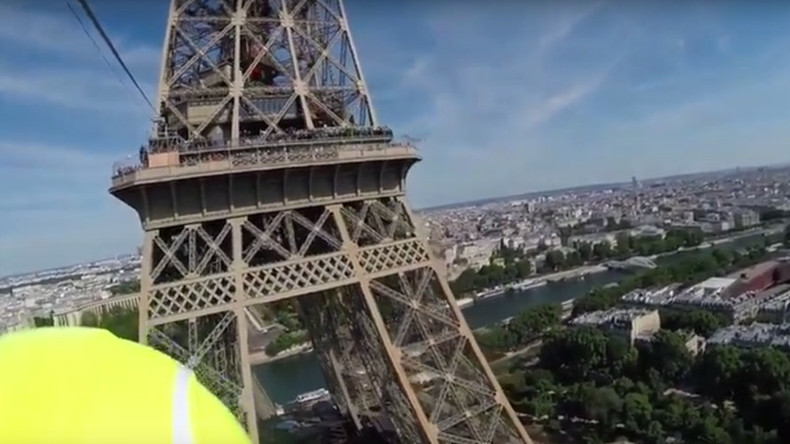 One of the world's most iconic landmarks, the Eiffel Tower, has been turned into a giant zip wire adventure, allowing daredevils to travel at breakneck speeds above the city of Paris.
The temporary ride begins a dizzying 115 meters in the air from the 2nd floor of the wrought iron tower and sees those brave enough flying at 90kph (56mph) over the manicured lawns of the Champ de Mars.
Organized by mineral water firm Perrier, the incredible high wire trip is to celebrate the French Open tennis tournament at Roland Garros.
The unusual project is meant to give users some insight into the speeds that tennis balls can reach when smashed by a professional player, according to Perrier.
READ MORE: Dangerous dirt bike stunt sparks investigation in California (VIDEO)
The zip wire experience is free and runs from June 5 until June 11, with up to 100 'flights' per day.
Footage shows brave souls flying over 800 meters in less than a minute.
The sky-high adventure provides a bird's eye view of the City of Lights with adrenaline junkies touching down near the famous Ecole Militaire building.
READ MORE: Inches from disaster: Thrillseeker cheats death, dangles by ankles on fairground ride (VIDEO)
But the journey is not for the faint hearted as many of the risk-takers who take the plunge can be heard letting off a hair-raising scream.