Inches from disaster: Thrillseeker cheats death, dangles by ankles on fairground ride (VIDEO)
A French fairground's swing ride nearly ended in tragedy for one visitor, who was unexpectedly hung at high speed by the ankles just inches above the ground as the attraction swung to-and-fro overhead.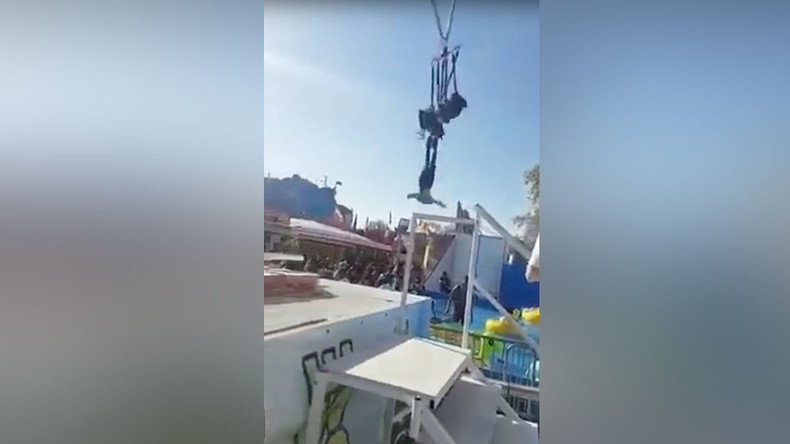 Video of the girl's brush with death while on the 'Adrenaline' attraction at Foire du Trone, an annual event in Paris, was shared online on Sunday.
READ MORE: Poltergeist playgrounds: Six spooky theme parks suspended in time
Footage of the incident shows two people suspended in what looks to be a harness hoisted above a platform and crowded stall area.
With music blaring from fairground speakers, an attendant signals for the pair to swing towards the ground. However, something then goes horribly wrong and one of the ride passengers falls backwards from her seat.
Picking up speed she dangles above a shocked crowd by her ankles, with her head and hands just inches from striking the platform. The ride was eventually stopped with the help of two fairground workers.
It is not yet known whether the seat malfunctioned or if the safety belt had been improperly fastened.
Organisers of Foire du Trone have confirmed that an investigation into the cause of the accident is now taking place. "Fortunately the young woman isn't injured physically and we hope she can overcome this shock," a statement from the fairground read.
A post to the Foire du Trone Facebook page indicates that the Adrenaline ride was added to the event last year.
A separate accident at the fair in which a 13 year-old girl suffered non-life threatening injuries on a merry-go-round attraction was reported to police on Monday, Le Parisien reports.
A spokesperson for Foire du Trone has defended the safety standards of the carousel and instead blamed the incident on human error.
READ MORE: Bird strikes thrill-seeker at 'Ferrari' speeds on newly opened rollercoaster (VIDEO)
Mayor of the local 12th arrondissement, Catherine Barattie Elbaz said people visiting fairgrounds should be "vigilant", adding that police should be involved in ensuring safety procedures are upheld.
You can share this story on social media: