Here we go again: Islamophobia rears head once more in bizarre beach attack (VIDEO)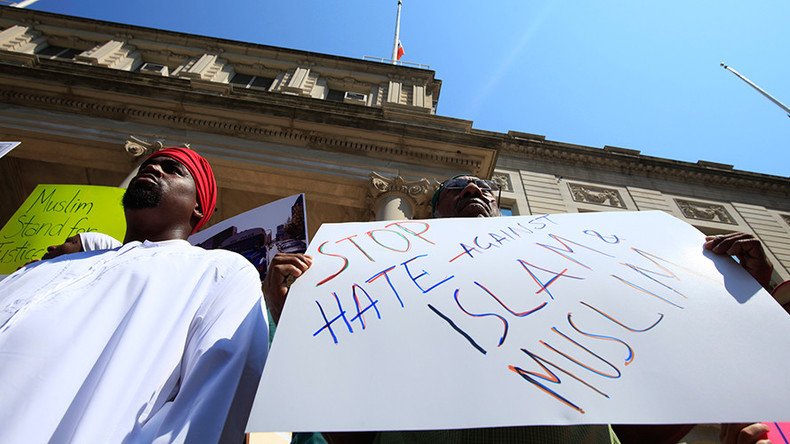 Texas has become something of a hotbed for high-profile Islamophobic incidents in recent times – and now it's happened again. On this occasion a video has emerged of a drunk American verbally abusing and threatening a Muslim family on a beach.
The video, taken on South Padre Island, Texas and uploaded to YouTube by user Noria Alward, shows the man, named as Alexander Jennes Downing, of Waterford, Connecticut hurling a confused and unhinged mix of Islamophobic insults referencing Sharia Law and ISIS.
Alward and her family were approached by several people on the beach warning them in advance that the man had been causing problems and was drunk, according to a detailed description the uploader provides within the YouTube video.
Noria's father engaged the man in a brief conversation, allegedly saying: "please enjoy your time and have fun and let everyone else here enjoy their time."
Downing initially walked away but then returned and began shouting at Alward and her family, including her father, brother, uncle and young cousins, aged between two and four years old.
Alward and her family called the police to intervene but the officers merely warned the man about his conduct and advised Alward to call them again if the abuse did not stop.
Naturally enough, as soon as the police were gone, the verbal abuse began again, which is when Alward began filming the incident. The entire tirade lasted almost 20 minutes reports local news outlet RGV.
Downing began thumping his chest repeatedly while shouting "Donald Trump" over and over again. Once he tired himself out, he returned to the hotel restaurant before being arrested by police after the second 911 call of the day.
"Officers made contact with Alexander Jennes Downing (35) of Waterford, Connecticut. While making contact with Downing officers determined that he was intoxicated in a public place and was a danger to himself and others," Padre Island police said in a statement, as cited by RGV.
Alward claims that the South Padre Hotel management were largely unresponsive and referred her and her family to the police, saying there was nothing staff could do apart from evict the man once he had been released from police custody.
Alward's uncle allegedly saw the man speaking with hotel management the morning after the incident and was told that there was nothing the hotel could do this time but that they would act if the man abused people again in the future.
RT has verified that the video was recorded at the South Padre Pearl hotel by confirming the logo and appearance of the location with images of the hotel hosted on Google.
RT reached out to Alward and her family who confirmed the sequence of events and provided additional background information.
Downing posted bond and was released but may face additional charges. "Anyone that was offended that day that wants to file additional charges are welcome to contact our agency. Our doors are always open to that," said local police Chief Randy Smith, as cited by RGV.
In 2016, RT reported that an extremist group of white men in Texas was training against a Muslim "uprising" by dipping their bullets in pig's blood and bacon grease to target victims.
In April, Texas police launched an investigation after copies of the Koran were found in toilets on the campus of the University of Texas, in an apparent hate crime equating the holy book with toilet paper. A number of elected and aspiring Texas politicians have also made highly incendiary comments about Islam in recent times.
You can share this story on social media: