Extremist group in Texas trains to shoot Muslims with bullets dipped in pig blood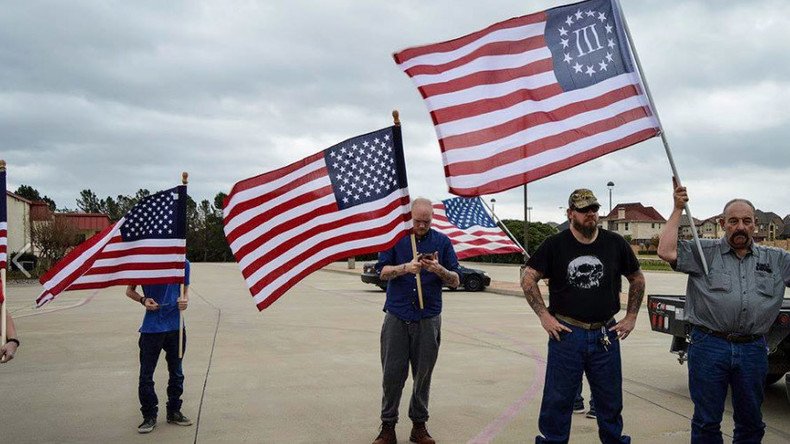 An extremist group of white men in Texas are training against a Muslim "uprising" by dipping their bullets in pig's blood and bacon grease to target victims.
The so-called "Bureau of American Islamic Relations" (BAIR) said using pig products to line the bullets would ensure victims would "go straight to hell," according to a video released by AJ+.
"A lot of us here are using either pig's blood or bacon grease on our bullets, packing it in the middle so that when you shoot a Muslim, they go straight to hell," says one man in the video, while another insists, "Don't f*ck with white people."
READ MORE: Florida gun-maker designs 'ISIS-proof' assault rifle
David Wright, spokesperson for the radical group, said he was "going to start doing something" about Muslims "now."
So my poor mom saw that @ajplus video of the white Texan men practicing shooting Muslims with their stupid pig bullets and she's scared 😔

— PunjabSumbz (@a_sumbel) May 28, 2016
READ MORE: 'Islamophobia: New face of racism for the 21st century' — RT Op-Edge
"The next step in jihad does not involve random, sporadic attacks," he told the news outlet. "They started killing people. Do you really expect me to stand here and wait until we get to that point?"
BAIR, which is based in the city of Irving, home of Ahmed Mohamed, the "clock boy," fears of a takeover by thousands of Muslim refugees. The concern, however, appears to be short lived. From 2012 till 2015, the US accepted approximately 2,174 Syrian refugees, the Guardian reports. Despite that, the group already staged protests against accepting any asylum seekers.
2,174 Syrian refugees have been admitted to the US after a vigorous vetting process. ZERO have been arrested or removed on terrorism charges

— Jen Psaki (@Psaki44) November 17, 2015
"If you get to the point where there's an Arab Spring, where there's a lot of radical Muslims here and they all decide to hit the streets at one time… that's going to be more of a battlefield type situation," Wright adds.
There's Muslim hate groups in Texas that coat bullets in pig blood or bacon grease so when they shoot them they go to hell. I'm disgusted.

— / darany / (@deadarany) May 28, 2016
christians putting pig blood on bullets to shoot muslims? is that what "your" God told you to do? that you go to heaven by killing people???

— kashibai (@prabability) May 27, 2016
Dressed in army overalls, several men from the group fire bullets from various locations as part of their training.
BAIR members have also staged armed protests outside mosques in Texas against the "Islamization of America."
READ MORE: Massive 'Islamophobia industry' flourishes in US — RT Op-Edge
Islamophobic attitudes have been increasing in the US. In 2015, a YouGov poll showed that 55 percent of Americans have an "unfavorable" opinion of Islam.
Beth Van Duyne, the mayor of Irving, fuelled further tension by recently leading the city's council to support a state bill with the purpose of blocking Muslim influence in US courts.
An "anti-Bair" Facebook group page was started by people from various religious backgrounds as a counter protest against the group.
You can share this story on social media: