WWII veterans mark V-Day riding world's biggest swing in Sochi (VIDEO)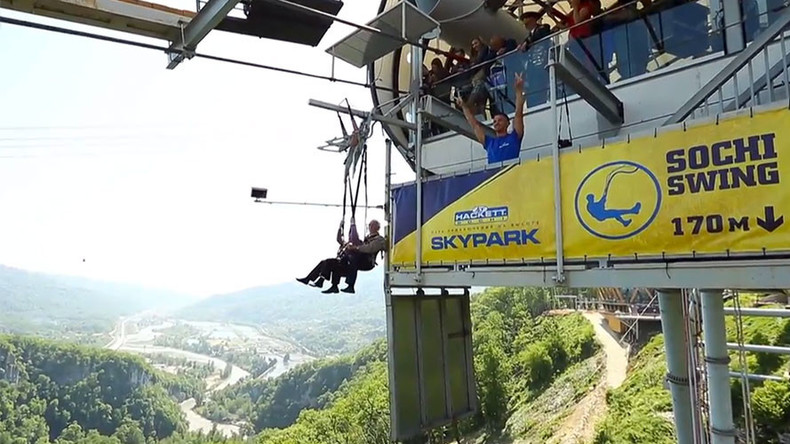 A group of World War II veterans have visited the AJ Hackett Skypark adventure center near the Russian southern city of Sochi on the eve of the 2017 Victory Day celebrations with some of them taking a ride on a 170 meter swing.
LIVE UPDATES: Russia celebrates Victory Day
Rimma Kotlova, 85, a WWII veteran, has become the oldest person to take a ride on the 170 meter SochiSwing – the equivalent 60 floors above ground. She was accompanied by another veteran, the head of the security service officers' club, Aleksandr Syanov.
Once strapped into their seats, the two elderly thrill seekers were ejected over a verdant valley, described by the makers as "near-space speeds," covering 500 meters in just a few seconds. The swing dropped almost 170 meters down before swinging them over the ravine.
The actions of the daring duo were greeted by shouts of "Hurray!" by the other veterans. Among the veteran delegation was a Hero of the Soviet Union – a retired major general and the head of the local veterans council.
Read more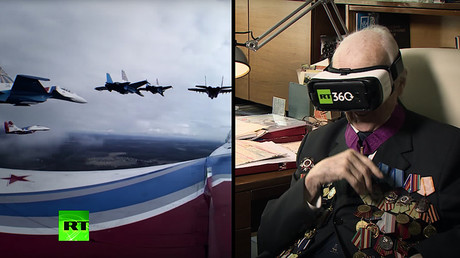 "It made an immense impression upon me, it is just a miracle!" Kotlova, 85, said after the ride, adding that she has long dreamt of such an opportunity. "Now, my dream has come true!" Kotlova said she was neither afraid nor nervous during the ride.
The park's staff also gave the veterans a tour around the center that also features the world's fastest troll – a wire between two points – that allows people to accelerate to over 150 km/h and the tallest bungee jump in Russia at 209 meters.
It also has a 439-meter-long footbridge perched between two mountains, near Krasnaya Polyana, the site for the mountain events of the 2014 Winter Olympics.
The SochiSwing is the highest swing in the world, which is almost 40 meters taller than the previous record-holder, the Nevis Swing in New Zealand. It is operated by a company controlled by 56-year-old New Zealander A.J.Hackett, who opened the first commercial bungee jump site in 1988, and still holds many of the Guinness records associated with the activity.