Victory Day celebrations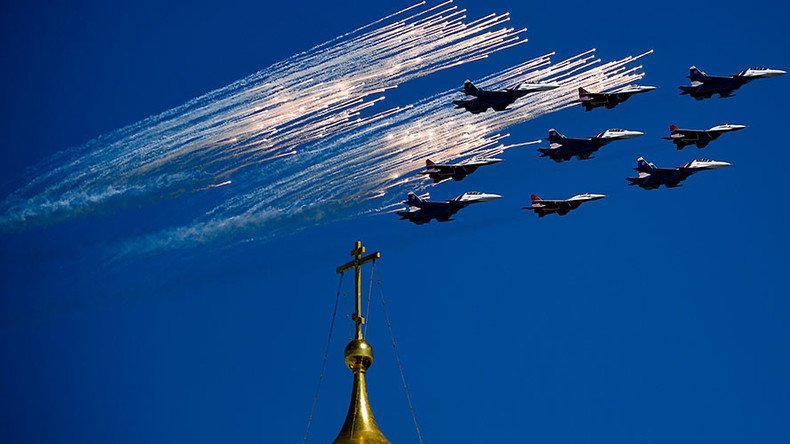 09 May 2017

19:50 GMT

Moscow V-Day celebrations culminated in an impressive fireworks display that illuminated the skies over Russia's capital at 16 locations, including Red Square, Sparrow Hills, and Poklonnaya Hill. Over 70 types of various fireworks lit up the night sky, said Colonel Vyacheslav Paradnikov, according to RIA Novosti. Seventy-two firework installations and 18 cannons made some 10,000 firings in 10 minutes, he added.

19:46 GMT

Veterans of the Great Patriotic War shared their impressions of the V-Day parade with the Ruptly news agency in Red Square.

"I have marched in parades on the 9th of May dozens of times. Now our grandchildren picked up the baton, and they will protect our Motherland as we did," one veteran said.

"I feel very happy and proud of the worthy rising generation. We have passed our duty to those young military people who paraded the square today, but we are very grateful that we also are remembered and invited to take part, it means a lot to us," another World War II veteran said.

The military equipment featured in the festivities also impressed the veterans, who said it was interesting for them to look "at the achievements in the industry" compared to what they used during the war.

"With such machinery, no one should dare attack us," a veteran told Ruptly.

19:36 GMT

In Athens, Greece, the Immortal Regiment March was headed by the daughter of famous sergeant Meliton Kantariya, who together with sergeant Mikhail Egorov, hoisted a Soviet flag over the Reichstag in Berlin on May 1, marking the defeat of Nazi Germany.

Eight Greek cities were expected to see the regiment marching through their streets, Aleksandr Khomenko, head of Russian Centre for Science and Culture, said. This year, some 2,000 people took part in the event and then proceeded to Zappeion Park where they viewed a broadcast of the morning military parade in Moscow and enjoyed a concert, TASS reported.

16:20 GMT

RT correspondent Laura Smith has reported from the Immortal Regiment event taking place in the heart of London, speaking to the descendants of those who fought in WWII.

15:37 GMT

As night has already fallen in Russia's Far East, the city of Vladivostok was among the first to enjoy a fireworks display after thousands of citizens joined Victory Day celebrations and the Immortal Regiment March.

15:23 GMT

Over 800,000 people are taking part in the march of the Immortal Regiment in Moscow, the Russian Ministry of Internal Affairs has reported.

13:58 GMT

Hundreds came to the Soviet War Memorial near the Imperial War Museum in London to honor the memory of the victims of World War II.

"Today, we're commemorating people, who gave their lives for Victory, who brought it closer," Russian Ambassador to the UK Alexander Yakovenko said at the ceremony.