99yo Soviet WWII pilot takes to skies again watching RT's 360 VR footage (VIDEO)
Published time: 8 May, 2017 12:27
Edited time: 8 May, 2017 12:27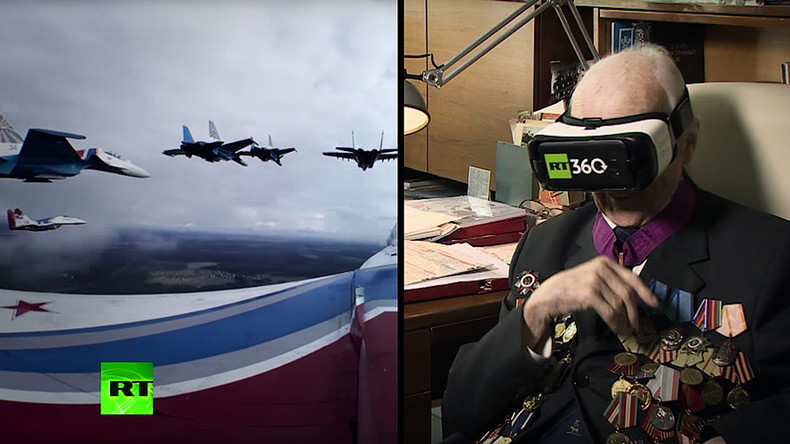 A 99-year-old Soviet WWII pilot got a unique chance to take to the skies over Moscow watching RT 360 VR video footage shot from a MiG-29 fighter jet rehearsing for the 2017 Victory Day parade as part of the legendary Swifts aerobatic team.
Yakov Lomko took part in the landmark 1942 Battle of Stalingrad, as well as other World War II battles, flying long-range bombers.
RT invited him to watch a 360 video shot aboard a modern fighter jet with virtual reality goggles while the warplane was flying in a diamond formation with the Swifts and Russian Knights aerobatic teams during Victory Day parade rehearsals.
WATCH VIDEO: Fighter Jet Acrobatics 360: Flying aboard MiG-29 over Moscow in Victory Day Parade rehearsal
The veteran pilot says flying was quite different in his time.
"Do you know how we used to fly during the war?" he asked. "The engines were frozen, you had to spin up the propeller with your hands."
"When the pilot starts the engine, everyone has to quickly get away from the propeller," he said, explaining a frontline pilot's routine.
Mr. Lomko, who joined the Red Army in 1940 at the age of 23, was an officer in the Soviet Air Force's long-range bomber division until 1945.
After the war, he pursued a career in journalism, serving as an editor and political observer at Soviet Information Bureau – the Soviet Union's leading news agency until 1961.