Elon Musk wishes he had a 'boring' name, asks Twitter for help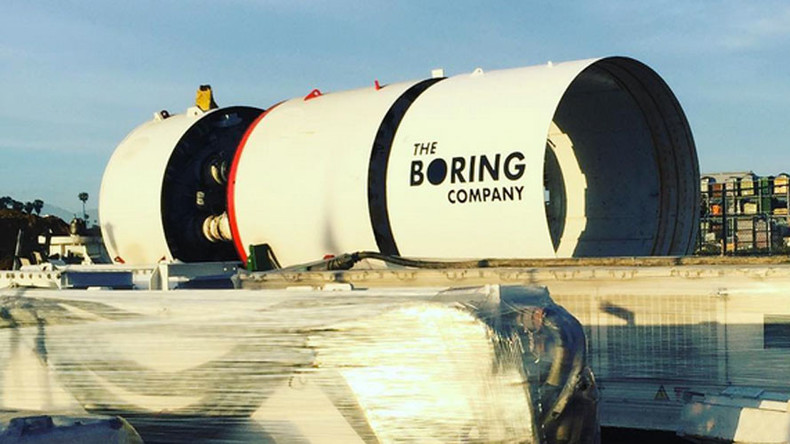 Billionaire tech tycoon Elon Musk needs a name for his new tunnelling machine and has turned to the ever-reliable and creative Twitteratti for help.
The Tesla and Space X CEO sent the internet into a frenzy when he tweeted that he was contemplating a name for his new venture, The Boring Company's first tunnelling machine.
Thinking about a name for our first tunneling machine …

— Elon Musk (@elonmusk) May 5, 2017
Musk's team is exploring the feasibility of digging underground tunnels with the aim of using them to reduce traffic congestion. Last week, The Boring Company released a video showing what the underground system would look like.
READ MORE: Elon Musk's anti-traffic jam tunnels explained in fresh video (VIDEO)
Musk got the ball rolling with the suggestion 'Ultimate Boring Machine, the Second.'
Maybe Ultimate Boring Machine, the Second

— Elon Musk (@elonmusk) May 5, 2017
When questioned why he would call the first such machine "the second," he said it lends it "more credibility."
He claimed that he learned his lesson with the "number three," apparently alluding to the confusion surrounding the forthcoming Tesla model 3 which is not actually the third version of the vehicle.
I know what you're thinking … then why not "the Third"? Well, I've learned my lesson about 3's.

— Elon Musk (@elonmusk) May 5, 2017
Twitter users happily joined in as Musk spitballed suggestions – even if many of them were quickly shot down by the tech magnate, especially the non-original ideas.
However, Musk seemed happy with his own rapper-inspired suggestion 'Snoop Dug.'
READ MORE: Can you dig it? Elon Musk's 'boring' project could be the solution to soul-destroying traffic
Kinda like Snoop Dug

— Elon Musk (@elonmusk) May 5, 2017
The CEO engaged with users for some time before realising he may have dug himself into a hole.
@keithdcohen I do love Banks, but perhaps we should reserve his names for the droneships

— Elon Musk (@elonmusk) May 5, 2017
What do you think - what would you call Musk's new machine?