Elon Musk's anti-traffic jam tunnels explained in fresh video (VIDEO)
Published time: 29 Apr, 2017 13:19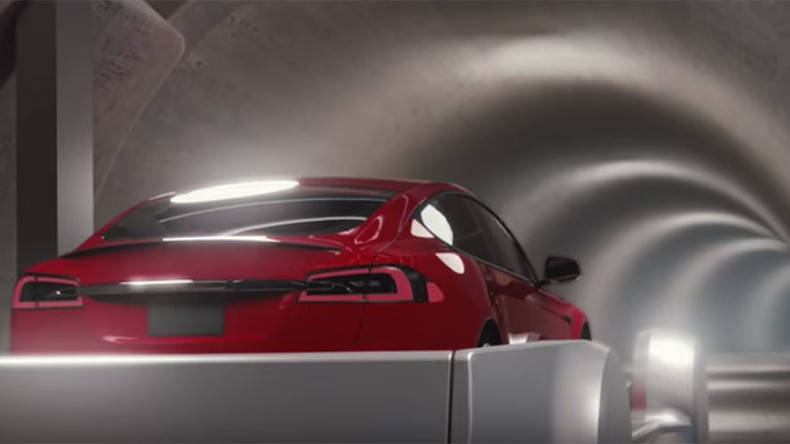 Famous for his forward-looking business plans such as the HyperLoop, billionaire inventor Elon Musk has recently turned his attention to tackling traffic congestion. A new video offers the clearest picture yet of what The Boring Company will do.
The founder of Tesla and SpaceX launched the company after griping on Twitter about being stuck in traffic. He hinted that the project aims to develop a cost-effective system for digging out tunnels for vehicles and high-speed trains.
Just what exactly the company is doing has remained a bit of a mystery, however. We know that it's bought a secondhand tunneling machine from a firm in Washington and that a hole recently emerged in SpaceX's parking lot that Musk said was a "demo tunnel" being used to test out the machine.
However, a video shown during a speech Musk gave at a TED conference in Vancouver on Friday gives the best indication yet of what the company hopes to achieve. The video depicts an underground network of tunnels that cars can access via elevators. It also features sleds that can transport cars through the tunnels at high speeds. The tunnels merge seamlessly and the whole system is computer controlled for efficiency.
Speaking to Ted curator Chris Anderson, the South African business magnate said he had been inspired to launch the project because he found being stuck in traffic "soul-destroying."
The video comes hot on the heels of pictures which emerged last week indicating that the company is building a prototype tunneling machine.
READ MORE: Can you dig it? Elon Musk's 'boring' project could be the solution to soul-destroying traffic
The system would allow vehicles to safely travel at much higher speeds than is possible on the surface, while the multi-layered nature of the network shown would allow for much greater volumes of traffic than regular above-ground roads could accommodate.
However, The Boring Company isn't a high priority for the inventor, who told the TED audience that he is only really spending about two to three percent of his time on it. So, we may have to wait quite a while before we can zip under previously congested city streets in efficient tunnels.