'Super Bowl for terrorists' keeps US Homeland Security 'literally awake at night'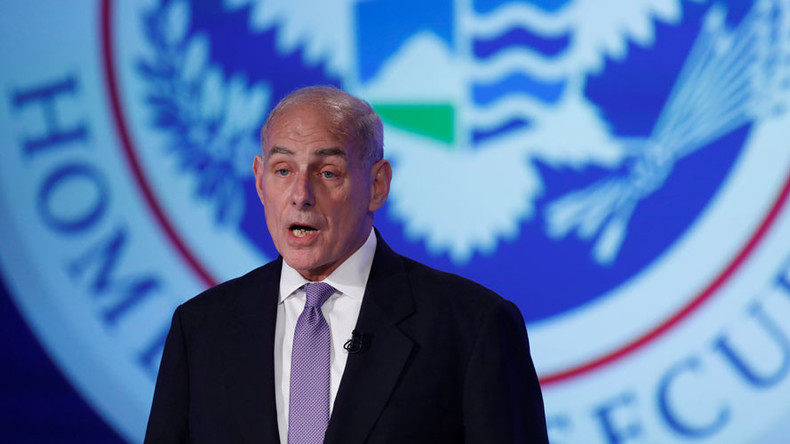 US Secretary of Homeland Security John Kelly has admitted he has no idea how to stop homegrown terrorists, despite acknowledging it is the "most common" threat facing the US. Kelly said the threat of an airplane terror attack keeps him "awake at night," and that it would be like the "Super Bowl" for terrorists.
Kelly appeared on CBS's Face the Nation on Sunday and was asked what the US could learn from the police shooting in Paris last week, which was claimed by ISIS.
He also said the threat against aviation "keeps me literally awake at night."
"We know that would be the Super Bowl for the terrorists to knock down an airplane in flight, particularly if it was full of Americans," he said.
"There are so many aspects to this terrorist thing," Kelly said. "Obviously you got the homegrown terrorists. I don't know how to stop that. I don't know how to detect that. You got other terrorist threats that come across the border."
"I believe in the case of the murder -- in the Paris shooting I believe he was homegrown," Kelly continued. "But, again, there are so many threats that come in from across border. And it's essential absolutely to control one's border."
The show's presenter pressed Kelly on the issue, "If that's [homegrown terrorism] the biggest threat, and you don't know how to stop it, that seems like a big problem?", Dickerson said.
"It is a big problem," Kelly agreed in response. "It is -- you know, depending on where you sit is where you stand on this, It is a big threat. Is it the number one threat? I think it's the most common threat."
Since 9/11, the majority of Islamist terrorist attacks in the US have been carried out by US citizens or legal permanent residents.
Army psychiatrist Nidal Malki Hasan, who killed 13 at the Fort Hood military post in 2009, was born in Virginia.
The San Bernardino shooter Syed Rizwan Farook who, along with his Pakistani wife, killed 14 people in 2015, was born in Chicago. Omar Mateen, the Orlando nightclub attacker who killed 49 last June was born in New York.
"The appeal I would make on the homegrown threat is if you see something, say something," Kelly said. "And this extends, frankly, to white supremacists and that kind of terrorism as well."
Kelly also gave his view on US tensions with North Korea. "So long as they're on the other side of the world without a missile and a nuclear weapon to deliver against the United States, they're not much threat right now, except in the world of cyber. They're pretty aggressive when they want to be in cyber."
Kelly added that if the North Koreans get "a missile that can reach the United States and they have a weaponized atomic device," the US would be "at grave risk."
Kelly served in the Marine Corp for 45 years and was appointed DHS Secretary in January. He held senior command positions in Iraq and was senior military assistant to secretaries of defense Leon Panetta and Robert Gates.
Kelly was in charge of Guantanamo Bay's military jail as head of US Southern Command during the mass hunger strikes of 2013.