'Stop bombing Syria & Iraq': Audio of Orlando nightclub shooter's 911 call released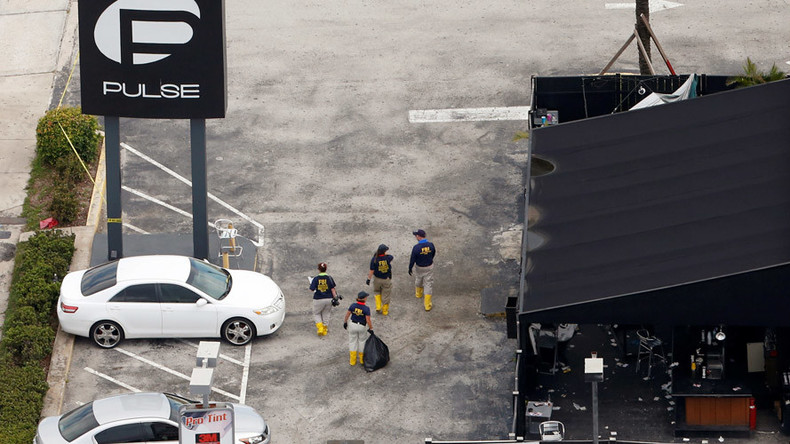 Calls to 911 from the man who murdered 49 people at an LGBT nightclub in Orlando this summer have been released. Omar Mateen is heard telling police negotiators that the US must "stop bombing Syria and Iraq."
Circuit Judge Margaret Schreiber ordered the audio recordings of Omar Mateen's conversations with police negotiators be released on Monday after Orlando city attorney Darryl Bloodworth announced the city would halt fighting the release. While transcripts of the half-hour-long negotiations have been available since September, the City of Orlando began to slowly release audio as it was legally approved.
There are still 200 recorded 911 calls related to the shooting that have not been released, as they remain under review by Schreiber, Treasure Coast Newspapers reported. State law restricts the release of recordings of a person being killed.
Attorney Rachel Fugate praised the ruling, telling Treasure Coast News: "The legal battle has been proceeding for some time and there was a lot of back and forth, but we're now down to the last remaining issues with respect to whether these calls will be released."
She claimed that by releasing the recordings, the public would have a better understanding of the timeline of the largest mass shooting in US history and could see what law enforcement was trying to do for the victims.
In one of the released recordings, Mateen repeatedly insisted that the police negotiator "tell the US government to stop bombing. They are killing too many children, they are killing too many women, OK?" referring to US airstrikes in Syria and Iraq. Whenever pressed for more information, Mateen became more hostile.
The negotiator, only known as Andy, spoke with Mateen over a dozen times between 2:35 a.m. and 3:25 a.m. He attempted to gain basic information about Mateen, such as his name or whether or not he was working with an accomplice, the Orlando Sentinel reported. However, Mateen seemed to be mostly uncooperative and frequently hung up on the negotiator.
When asked for his name, Mateen told Andy: "You're speaking with the person who pledged his allegiance to the Islamic State, Abu Bakr al-Baghdadi" and later asked to Andy to call him "Mujahedeen, call me the Soldier of God."
Andy attempted to steer the conversation into a productive realm, saying: "Look, I'm trying to figure out how to keep you safe and how to get this resolved peacefully because I'm not a politician, I'm not a government."
"All I can do is help individuals and I want to start with helping you," he added.
Mateen responded by falsely claiming that a vehicle outside of the club had a bomb in it that would "take out a whole city block almost."