Vintage Aleppo car collector exhibits city's abiding spirit (VIDEO)
Published time: 13 Mar, 2017 20:39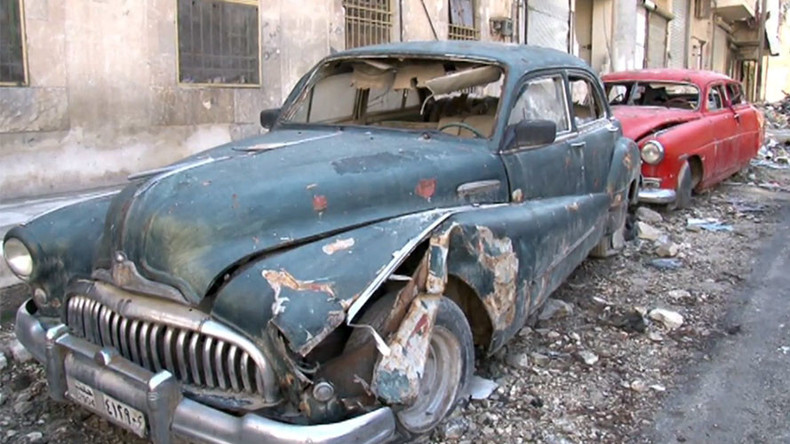 Mohammad Mohiedine Anis is a vintage car collector in Aleppo who is determined to continue his lifelong hobby and renew his passion as the city reawakens from six-years of deadly war.
The connoisseur has been curating his collection of cars from the forties and fifties for decades. Before the war, his collection featured 30 vehicles, with many of his retro cars used in Syrian films.
The conflict has seen the 70-year-old's vintage collection reduced to 20. The remaining cars are scarred with bullet holes and large dents, with some damaged beyond repair as a result of shelling.
Anis' love for his cars was so great he refused to leave the rebel-held al-Shaar neighborhood until two months before the liberation of Aleppo in December.
A neighbor said that when Anis, also known as Abu Omar moved away, locals managed to convince the rebels not to use his 1958 Chevrolet to mount a Dushka anti-aircraft gun.
"I used to have 1950 and 1947 model cars, since 20 years ago I had this hobby of collecting cars. The first one I bought was an orange Deux Chevaux," Anis said Sunday.
"My goal is to have a museum in Aleppo for old cars. I have been to the Torino [Turin] museum in Italy and was really impressed. I spent a day in there and felt like it was only an hour."
Anis acknowledges that his dream of a museum is not possible at the moment. "Maybe just a personal museum for me and my kids," he said.
"I will repair the cars as much as is possible. In the Nara convention in Japan, they said that human beings produce non-materialistic things like books and sometimes materialistic things, which we can protect and take care of for the next generations. For instance, I have cars that are 60 and 70 years old."
"I want to say to the new generations that old cars, which are more than 100-years-old, can be very useful for them, like for people who study car designs, or for people who study the history of cars." he said.