Police officer puts his car in front speeding truck, prevents crash with bus full of children(VIDEO)
Published time: 19 Feb, 2017 17:59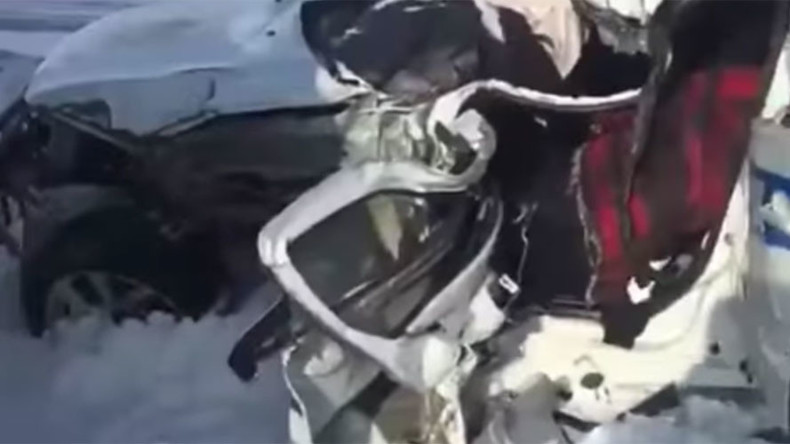 A Kazakh police officer risked his life and that his colleague's by parking their patrol car in the way of a heavy truck that could have crashed into a bus carrying 18 children and four adults. Medics say their condition is grave but stable.
"A 50-year-old driver of a KAMAZ truck turned the wheel into oncoming traffic. In order to prevent the KAMAZ from crashing into a bus with 18 children and 4 supervisors, chief police officer Murat Nurseitov without hesitation put his patrol car across the road," a statement issued by the press-service of Pavlodar Internal Affairs Department said.
The accident occurred on the road from the capital Astana to Pavlodar on Friday, February 17, at around 10:50 am local time. An investigation is underway.
The driver, Nurseitov, who was induced into a coma by doctors, eventually woke up, Kazakh news outlet Informburo.kz reported. He has already been visited by relatives.
READ MORE: Russian hero cop rams his car into oncoming vehicle to save children's lives
The other officer, Bayanbek Zhunusov, who was also in the patrol car, suffered minor injuries and refused to go to a hospital.
Nurseitov and Zhunusov received five million tenge (more than $15,000) as a reward for their brave deed from the AO Almatel company.
The eighteen children accompanied by four adults were on their way to a sports competition.
READ MORE: Families thank Russian cop for 'heroic' ramming maneuver that saved children
In July, a Russian police officer, Aleksandr Kosolapov, similarly prevented an accident on the road to the city of Abakan, the capital of the Khakassia Republic in southern Siberia.