Tuxedoed Trudeau gives ironic but inspiring speech at elite banquet
Published time: 18 Feb, 2017 18:45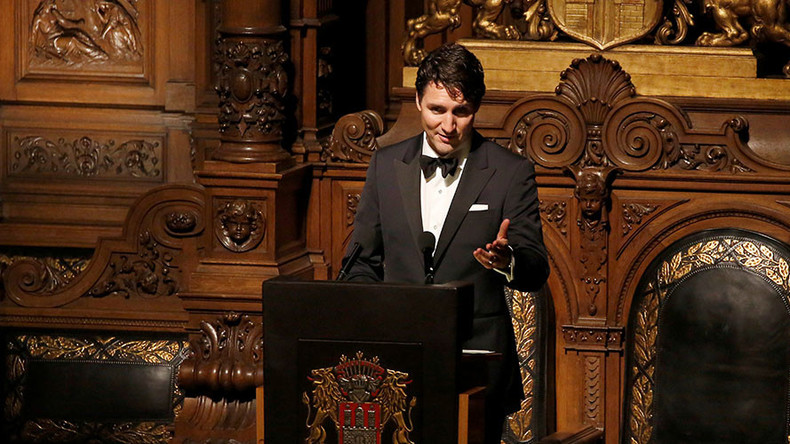 Canadian Prime Minister Justin Trudeau told an elite audience in Hamburg that it is time to "get real" about rising inequality which is causing anger among the middle class, urging businesses to "pay your taxes" and "pay a living wage."
Speaking at an annual banquet in Hamburg, Germany, Trudeau warned guests at the exclusive black-tie gala that rising inequality led to an 'us versus them' situation, with people distrusting their governments and employers.
"When companies post record profits on the backs of workers consistently refused full-time work - and the job security that comes with it - people get defeated," he said.
"When governments serve special interests, instead of the citizens who elected them, people lose faith."
"We're watching that anxiety transform into anger on an almost daily basis," he said. adding that as a result, the natural defence mechanism is to retreat from one another. He added that leaders in business and politics need to "step up."
"It's time to pay a living wage," he told the 400-strong audience of politicians and business leaders. "To pay your taxes, and to give your workers the benefits and peace of mind that come with stable, full time contracts."
Not everyone was convinced by Trudeau's statements, however, with many online drawing attention to the perceived hypocrisy of a tuxedo-wearing son of a former prime minister telling other wealthy influencers to do more to look out for workers.
Trudeau himself saw the paradox in his remarks, admitting he understood the "irony of preaching about the struggles of the middle class to a sea of tuxedos and ball gowns, while wearing a bow-tie myself."