'I hope Melania will wear it!' Pamela Anderson tells RT of Russian-made eco-fur coat for first lady
US actress and animal rights activist Pamela Anderson has told RT about a special gift she has prepared for America's new first lady, Melania Trump – a coat that is "as warm" as a fur coat, but is at the same time animal-friendly.
Anderson has teamed up with "two wonderful boys" in Russia to create something "glamorous," and raising environmental awareness. As a result of the "wonderful collaboration," a collection of coats made of eco-fur has been created.
"I've been wearing them all over the place and people always come up to me and tell me how they love it," the actress told RT, adding that the coats "give you a glamorous feeling."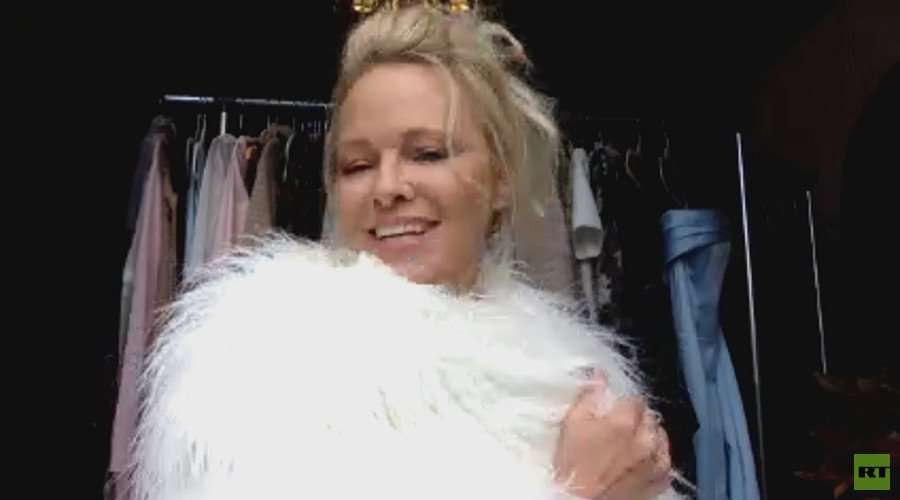 Having decided to share the feeling with someone who might share it even further, Pamela Anderson has come up with the idea to dress the wife of the new US president.
"It's just good timing to make her [Melania Trump] something special," Anderson said, adding that she hopes the new first lady "is going to be a role model for people."
"Ralph Lauren dressed her for the inauguration, and he doesn't have any fur in his collection. So, I thought that maybe she'd appreciate it," she said, while also pointing out that "it's very glamorous to wear eco-fur now."
Custom-made in Russia, the coat was produced of recycled materials. It's "just as warm" as real fur, according to Anderson, who also shared some of the outerwear's other benefits.
"It's much less expensive and you can wash it at home in a washing machine," she told RT, adding, "I hope she'll wear it! It's gorgeous, it's made with her in mind. She is a beautiful woman and sure she'll wear it somewhere and we'll get to see it."
The actress, who is now all into environmental issues, also expressed her hopes that other women would follow suit and choose their outfits "much more compassionately."
"That's evolution," she said.
Saying that she "loves going to Russia," Pamela Anderson has shared how she has "been a few times to the country to speak about environment." The love from Russian authorities is mutual, she said.
"I feel that they are very sincere and have a lot of great ideas about protecting the environment, especially in Russia. But I encourage them to influence other countries," she said, adding that she finds Russian officials and activists to be "forward-thinking."
"We've created animal welfare laws all over the world and I find it that Russia is very, very important right now. Everyone is looking to Russia for these types of things as well," she said.
READ MORE: Baywatch Vladivostok: Pamela Anderson discusses environment and climate change at Russian forum
Back in the US, the actress-turned-activist also has plans for another Trump family member, "to make a difference." Anderson told RT she had invited Donald Trump's oldest son, Donald Trump Jr., on a trip to Africa.
She has already chosen a sanctuary for elephants to visit with the president's son, to make him think twice about one of his hobbies.
"Maybe our trip will encourage him to look at conservation and animals in the wild, and respect them. I hope he will stop trophy hunting and hunting in general. There are ways we can try and encourage people to do different things," she said.
You can share this story on social media: