NASA aborts cyclone satellite mission mid-flight due to rocket fault (VIDEO)
Published time: 12 Dec, 2016 13:27
Edited time: 12 Dec, 2016 16:08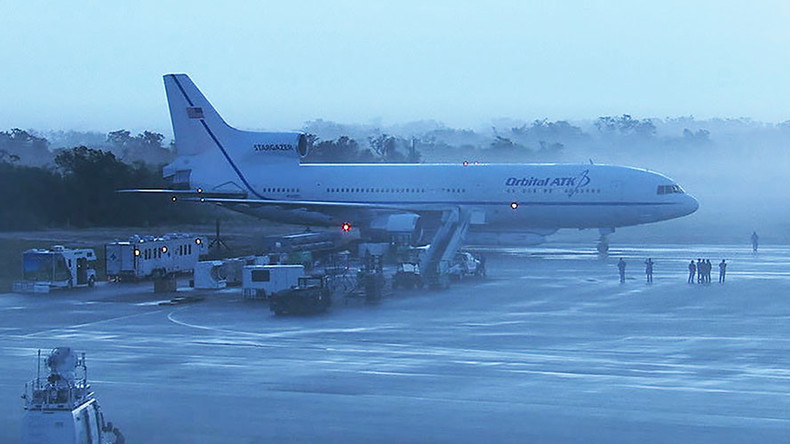 A mission to launch a new NASA satellite system tipped to improve cyclone threat predictions has been scrubbed because of a fault on board the aircraft launching the hardware into low-orbit.
The Cyclone Global Navigation Satellite System (CYGNSS) is designed to analyze the inner core of potentially-devastating storms.
It was due to reach orbit via a Pegasus XL Rocket released from a Stargazer L-1011 on Monday.
However, some 25 minutes before the launch NASA mission control reported problems with a "hydraulic pump" that releases the rocket.
Pilots of the Stargazer plane had already successfully fought through poor weather to reach an area where the rocket could be fired, only for a release mechanism to continuously fail.
The commercial rocket, designed by aerospace company Orbital ATK, was flown from Cape Canaveral, Florida, to a drop point over the Atlantic Ocean before the mission had to be aborted.
A second unsuccessful attempt was to release the rocket was made at 9.05 a.m. ET.
Consisting of eight small satellites, NASA say CYGNSS will help to improve the accuracy of storm forecasts and provide data to better understand "the lifecycle of tropical cyclones, typhoons and hurricanes."
In a pre-launch briefing, Christine Bonniksen, CYGNSS Program Executive, predicted the launch would be an "amazing day" for earth science.
"This is going to be looking at hurricanes. It's going to be focusing on the surface winds, which is the area of highest dynamic energy in a hurricane, which helps influence how intense the hurricane is going to be."
NASA Launch Director Tim Dunn had described the Pegasus rocket as the "perfect fit" for the mission.
Speaking after Monday's disruption, Dunn praised the "valiant troubleshooting" that took place mid-air, but lamented that a defect with "the hydraulic system that enables the release of Pegasus from the belly of the plane" could not be overcome.
"It was not meeting the prescribed launch release pressures, indicating a problem with the hydraulic pump," he said.
"[It is] a little bit disappointing for the team, obviously you want to go on the first attempt."
"We did battle a lot of weather today… on the way out to the drop point. But just like any other launch vehicle system that we use you do have hardware issues that crop up," Dunn said.
A 24-hour investigation into the failure is now planned ahead of another attempt on Tuesday.