Ancient city discovered in Iraq, 45km from ISIS territory (PHOTOS)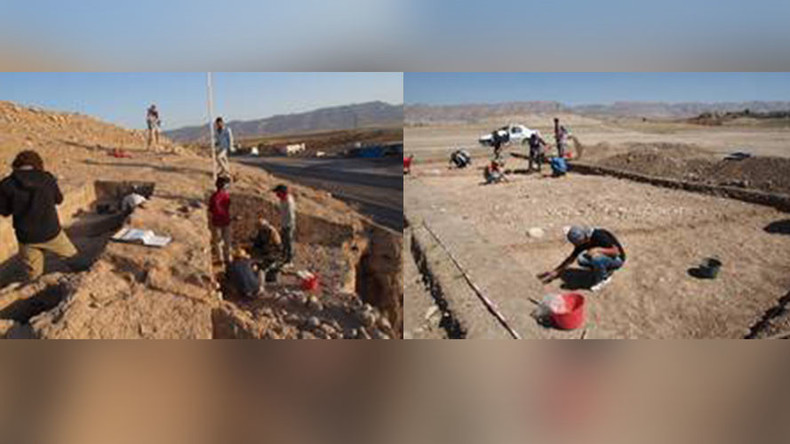 Archaeologists have discovered a large Bronze Age city in northern Iraq which they believe may have been an outpost of the world's first empire.
The ancient settlement was found at the small Kurdish village of Bassetki, not far from the town of Dohuk and about 45km (28 miles) from territory held by Islamic State (IS, formerly ISIS/ISIL) fighters.
Researchers from the University of Tübingen in Germany have determined that the town was set up around 3000 BC and it flourished for more than 1,200 years.
READ MORE: Jihadi black market: ISIS smuggles 'blood artifacts' out of Syria to buyers in US, Europe (VIDEO)
Evidence at the site also revealed that the city was part of the Akkadian Empire – regarded by some historians as the first empire in human history – dating from around 2340 to 2200 BC.
The city had a wall to protect it from invaders and was home to several large stone structures, an extensive road network, residential districts and grand houses. There is also evidence of a temple dedicated to the Mesopotamian weather god Adad, according to the German research team.
The dead were buried at a cemetery outside the city and roadways connected it to the other regions of Mesopotamia (comprising modern-day Iraq, Kuwait and eastern Syria) and Anatolia (modern-dayTurkey).
READ MORE: Harrowing images show ISIS 'demolishing' Syria's ancient Palmyra temple (PHOTOS)
Confirmation of the ancient town's location has finally solved the mystery surrounding the discovery of a significant statue in the area.
Bassetki is best known because of the "Bassetki statue" – a fragment of a bronze figure of an Akkadian god-king discovered in 1975. The statue was stolen from the National Museum in Baghdad during the Iraq War in 2003, but was later recovered by US soldiers.
IS has deliberately destroyed numerous historic sites in recent years including the ancient Assyrian city of Nimrud, the UNESCO World heritage site in Palmyra and several mosques, shrines and churches.
"We cannot remain silent. The deliberate destruction of cultural heritage constitutes a war crime," UNESCO Director General Irina Bokova said of the destruction.
READ MORE: ISIS militants destroy ancient statues, relics in Iraq (VIDEO)
Although the excavation site is just 45km from IS territory, the researchers said they were able to work without any disturbances.
"Despite the geographical proximity to IS, there's a great deal of security and stability in the Kurdish autonomous areas in Iraq," head researcher Professor Peter Pfälzner said.