Jihadi black market: ISIS smuggles 'blood artifacts' out of Syria to buyers in US, Europe (VIDEO)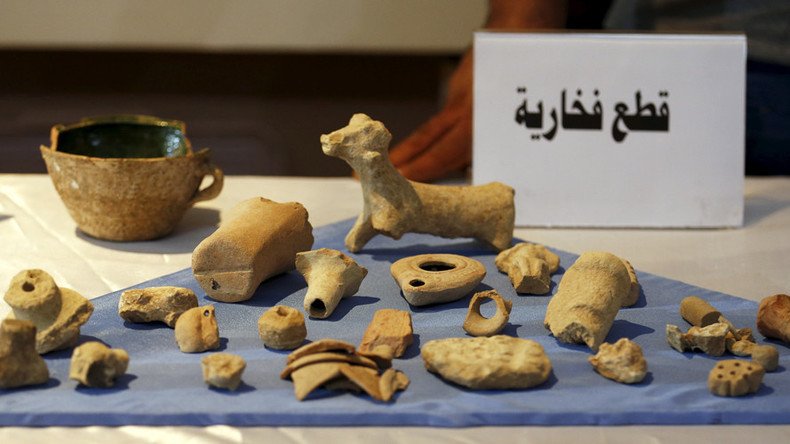 Islamic State (IS, formerly ISIS/ISIL) is selling antiquities looted from Syria to buyers in the US and Europe as a means of funding its terrorist activities.
The jihadists are transporting the artifacts out of the country via Turkey according to documents from IS's Ministry of Natural Resources, obtained exclusively by an RT documentary crew.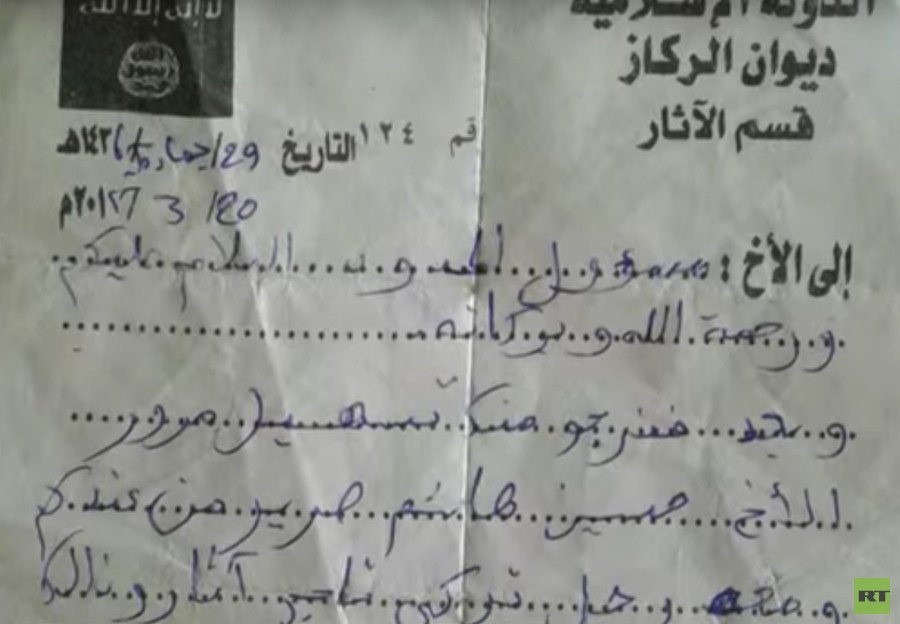 Yaya J. Fanusie, director of analysis at the Center on Sanctions and Illicit Finance told RT that this is a "very strategically important source of revenue for Islamic State".
"There's definitely a pipeline that goes through the states that border the region, so Turkey is one location where there's a lot of smuggling," he said.
Middlemen have told the center that buyers are coming from the US and Europe – but they haven't documented the final buyers.
Fanusie was among a number of experts who testified at a special hearing held by the US House Financial Services Committee's Task Force to Investigate Terrorism Financing this week.
The hearing, entitled "Preventing Cultural Genocide: Countering the Plunder and Sale of Priceless Cultural Antiquities by ISIS" identified collectors from Europe and the US as the top buyers of the ancient relics.
"The trade's main target buyers are, ironically, history enthusiasts and art aficionados in the United States and Europe – representatives of the Western societies which IS [Islamic State] has pledged to destroy," Fanusie testified.
'Not illegal'
Dr. Patty Gerstenblith, director of the Center for Art, Museum, and Cultural Heritage Law at DePaul University and the US Committee of the Blue Shield, pointed out a major loophole in the system.
"At the moment it's not illegal, or not necessarily clearly illegal, to bring antiquities from Syria into the United States; they've not been included in the OFAC (Office of Foreign Assets Control) sanctions and there's no general legal principle," she testified.
The US Congress has voted to ban imports of practically all ancient art and artifacts from Syria in an effort to discourage the illicit trade by ISIS and other jihadist groups, but the bill still needs to be signed into law by President Barack Obama.
The World Customs Organization is responsible for the prevention of cultural heritage trafficking, while the International Council of Museums issues red lists of cultural objects at risk of being looted. A red list for Syria was launched in 2013.
The European Parliament (EP) Committee on Culture and Education (CULT) held a hearing on cultural heritage destruction and trafficking last year which was attended by representatives from UNESCO, Interpol, ICC, ICCROM specialists and the international law community.
They noted that similarities between artifacts from the Near and Middle East created difficulty in identifying illegally obtained relics.
IS currently controls 4,000 archeological sites in Syria alone and is believed to have made millions of dollars through looting the related artifacts.
Estimates of exactly how much IS has earned from the illicit trade of artifacts range from "several million dollars" according to the US, right up to $200 million per year, according to Russian officials.
You can share this story on social media: