Russian military removes all mines & bombs in historic Palmyra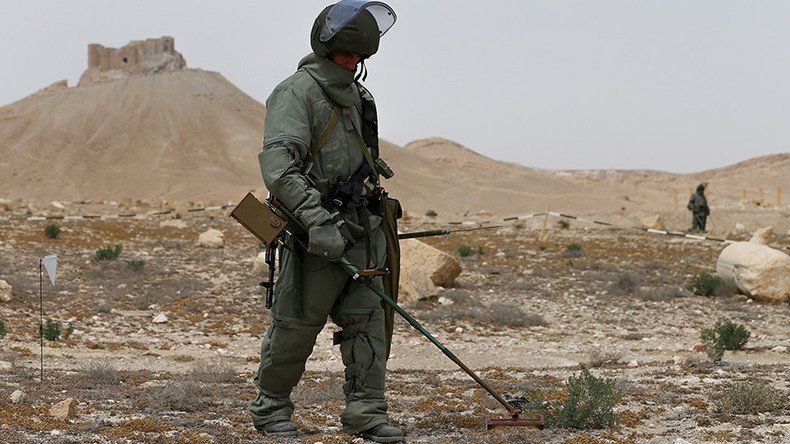 Russian engineers have successfully completed clearing the ancient Syrian city of Palmyra of explosives left behind by Islamic State. Nearly 3,000 explosive devices on around 230 hectares (2.3 sq km) of the World Heritage site have been defused.
"The task of clearing the architectural and historical part of Palmyra of explosives has been fully completed," the head of the Russian Army's engineering unit, Yury Stavitsky, reported from Syria to President Vladimir Putin on Thursday.
Starting from April 2, Russian engineers with the help of Uran-6 robots and specially trained dogs have cleared 234 hectares of land, 23 kilometers (14 miles) of roads and 10 architectural objects, Stavitsky said, speaking to Russia's Commander-in-Chief via a TV link-up.
In total, 2991 explosive devices, including 432 makeshift bombs, have been defused, the military official reported. Ninety-eight Russian servicemen have been involved in the effort, he added.
Engineers from the Russian Army's International Anti-mine Center were deployed to Palmyra following the Syrian government's request to help de-mine the city. The City of Palms was recaptured by the Syrian Army backed by Russian forces on March 27.
Russian sappers have been working not only at the historic site of Palmyra, but also helped to de-mine the modern city nearby. Nearly 370 buildings have been checked, the military official reported, adding that more than 1,400 explosives have been destroyed. The engineers will continue working in residential areas of Palmyra, Stavitsky said, adding that some 560 hectares (5.6 sq km) of urban areas and an airport still need to be combed for terrorists' explosives.
Prior to its capture by Islamic State (IS, formerly ISIS/ISIL) in May of last year, the city in western Syria was home to about 70,000 people. Hundreds of residents have already returned to the city, local authorities said.
READ MORE: Russians continue to clear ISIS mines in Palmyra, as locals return (PHOTOS)
While the UNESCO World Heritage site and the residential area nearby were in the hands of IS, they had infested it with thousands of mines, which could potentially level the city in a matter of seconds. Approaches to the city and its residential quarters were rigged with explosives, which turned Palmyra into a huge "delayed action mine," RT has learned.
READ MORE: Palmyra mass grave: Tortured women & children among dozens of ISIS victims unearthed by Syrian Army
Sadly, during their 10 months long occupation of the city, the jihadists put many of their explosives into action, destroying a number of unique historical monuments. Despite earlier hopes that the damage was quite repairable, Palmyra's current appearance is incomparable to how it looked before the IS occupation.
While the Russian engineers along with the Syrian Army have been working in the city, efforts were made by restoration experts and organizations to decide on what can be done to bring Palmyra back to its former cultural glory. Earlier this month, a Russia-drafted resolution on the role of UNESCO in restoring the devastated ancient city was unanimously approved by the organization.
You can share this story on social media: