Palmyra mass grave: Tortured women & children among dozens of ISIS victims unearthed by Syrian Army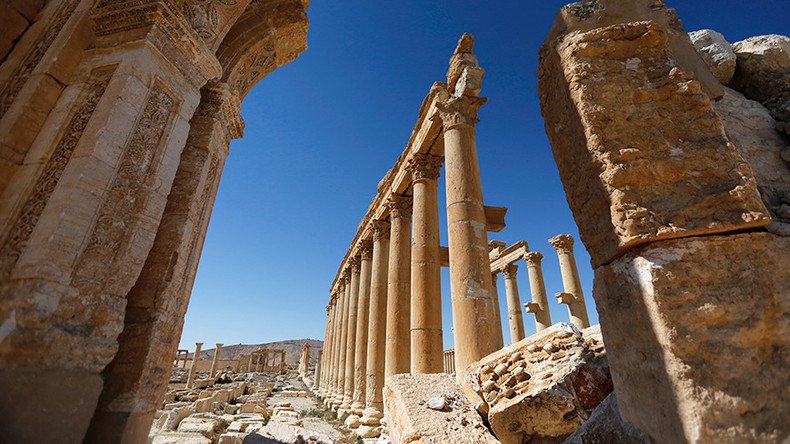 The Syrian Army is unearthing a mass grave consisting of at least 40 corpses, many of them women and children. They were butchered by Islamic State (IS, formerly ISIS/ISIL) in the recently liberated ancient city of Palmyra.
The grave was discovered by engineers and "popular defense forces" in the Masakin al-Jahizia neighborhood of the city, which lies only 500 meters from the ancient ruins, SANA reports.
So far the army has recovered 25 corpses. Among those killed by IS were three children and five females. As the excavation proceeded, 15 more corpses were unearthed – all of them women and children.
Initial examination of the bodies revealed that some of the victims had been beheaded while other had been brutally tortured before their deaths.
The army continues to excavate the mass grave, fearing that more bodies may be found.
Engineering units continue their search for landmines and explosives as thousands were hidden by the jihadists before they were driven out of the city with the help of the Russian forces working with the Syrian Army.
Russian combat engineers arrived in Palmyra on Thursday with special robotic units to offer their expertise in detecting and dismantling mines in an area comprising over 180 hectares (445 acres), to save the UNESCO world heritage site, and help locals to return safely.
"At least 3,000 explosive devices were installed in the city," the sapper explained to RT. He said IS created an almost invisible interconnected network, partially hidden under hard paved roads, which could blow up the entire city.
READ MORE:Palmyra booby-trap: ISIS had 3,000 bombs rigged, ready to level entire city with one click
A strategically important location, Palmyra was seized by IS jihadists in May 2015. That month, IS reportedly slaughtered 400 people, mostly women and children. At the time, Reuters reported that a video posted by IS' supporters showed the militants entering governmental buildings in search of Syrian soldiers. They were also seen pulling down pictures of Syrian President Bashar Assad and his father, Hafez Assad.
You can share this story on social media: