Curious cat gatecrashes live TV show, sits on presenter's laptop (VIDEO)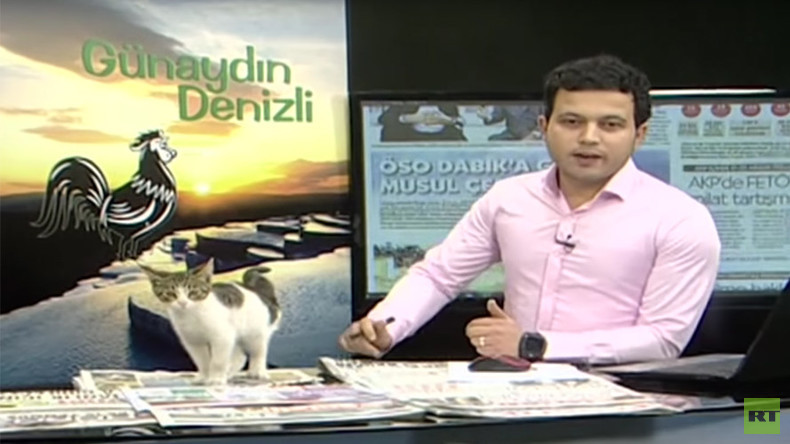 A moggy in Turkey, has become a TV sensation after wandering into a studio and jumping onto the presenter's table during a live broadcast.
The feline interrupted the broadcast and could initially be seen peering over the desk during the "Good Morning Denizli" show, which is presented by Kudret Çelebioğlu.
No more than a few seconds later, the cat jumped up onto the surface to have a look around, catching the attention of the presenter.
It then decided to wander over to the Çelebioğlu's laptop and sit there while he continued talking to the camera, largely unfazed by his visitor.
Çelebioğlu mentions that because weather temperatures are dropping, stray cats are getting hungry, therefore people should make an effort to look after strays before continuing on presenting the headlines.
Finally, production assistants were asked to remove the cat, which was named Hüsnü and reportedly adopted by a member of staff, according to Hurriyet Daily.
It's not the first time a curious Turkish moggy has decided to have a sniff around in an unlikely situation. During the attempted coup in July, another intrigued cat strolled past armed police officers in Istanbul in the height of tensions.
READ MORE: Defiant cat wins over internet during attempted coup in Turkey