'It's going to liberate us': Kim Dotcom vows Megaupload 2.0 will strengthen internet freedom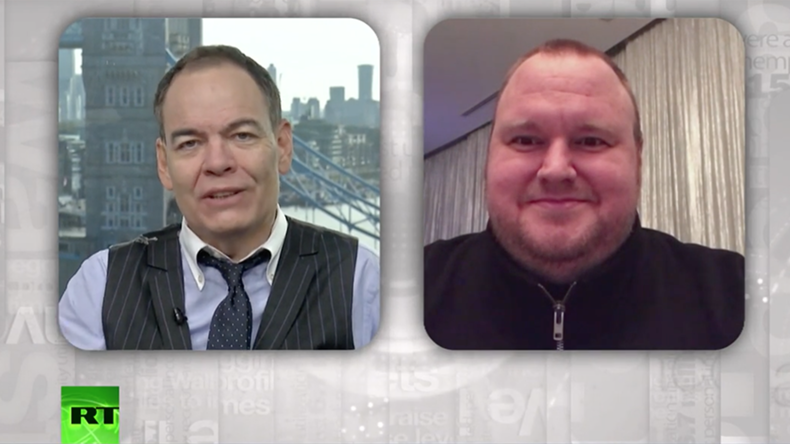 Internet entrepreneur Kim Dotcom promises that his latest two initiatives, Bitcache and Megaupload 2.0, will strengthen the internet and secure it from the prying eyes of the law.
Bitcache, as Dotcom explained on the latest installment of RT's Keiser Report, will allow websites to use their technology for Bitcoin transactions for internet based services and content at scale.
Dotcom described it as a "microtransaction service utilizing Bitcoin and the Blockchain," with transactions taking place "off the chain" due to limitations with the number of transactions it can handle.
The off-chain method allows for users to make "millions and millions of transactions" and then reintroduce the bitcoin into the chain when making withdrawals from their funds.
"If you put five dollars in there, that is going to last you a very long time," he explained. "Our default transaction size per file transfer will not be more than five cents."
Content producers will then have the opportunity to monetize products through Megaupload 2.0, described as "Dropbox, but without the ability for Dropbox to read your files or hackers to steal them from our servers." It will allow users to make money with content they wouldn't have been able to monetise previously, with Bitcoin and Blockchain acting "as the glue."
Dotcom has managed to raise almost half of the minimum fundraising needed in less than two weeks to launch both services.
Keiser pointed to the fact that people who post videos to social media which amass huge views don't make any money from them, but with Megaupload 2.0 and Bitcache, there is the potential to earn thousands for a single five minute video.
"It's not just a business it's a movement. It's a vision to strengthen internet freedom and strengthen our basic human rights to privacy," Dotcom said.
"It's going to liberate us. The technology is providing us with rights we rightfully have under the UN charter of human rights, technology is providing that when the law can't protect us anymore because they are spying on us everywhere and trying to censor our internet."
Dotcom wants to make bitcoin and digital currencies mainstream to so people can get away from depending on the banks. With 200 million users of the original Megaupload eagerly awaiting his latest endeavor, Dotcom is confident Bitcache will be a success.
Keiser also asked him about his US extradition appeal hearing in New Zealand, which Dotcom described as "the copyright cartel in Hollywood trying to take control and monopolise of all human thought."
READ MORE: NZ Court hears closing arguments in Kim Dotcom's US extradition appeal hearing
"I think the US case was demonstrated to be a sham," Dotcom said. "I think we've shown with our evidence that there's no case for extradition, there's no case for copyright infringement and I know that they were quite unhappy."