Austrian dominatrix avoids jail despite client's sex game fatality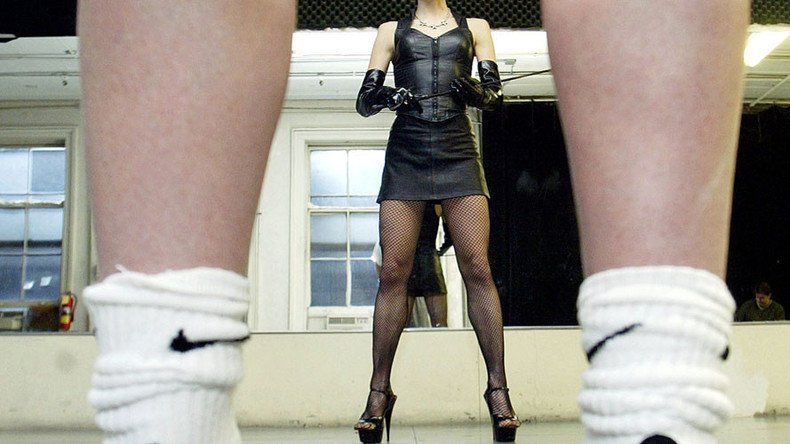 An Austrian prostitute has been handed a two-year suspended prison sentence after one of her BDSM sessions ended with a dead client.
Pamela F. appeared in a Vienna court on Monday claiming she did not intend her bedroom antics to put the man's life in danger and that he had accepted "full responsibility for any risk" prior to the meeting.
A lawyer for the 29-year-old prostitute detailed how she had advertised herself as a dominatrix on a number of websites focused on BDSM (bondage and discipline, submission and masochism), offering services such as "slave training" and choking.
READ MORE: 50 Shades of Legally Grey: Federal court strikes down consensual kink
The unnamed victim approached her in September 2015 requesting to experiment with "breath play" and experience falling unconscious, according to The Local.
Their first meeting didn't end satisfactorily for the man as he didn't achieve unconsciousness, which he told her in a text message was due to being too distracted by her beauty.
Pamela and her client met the following night in a Vienna hotel for a second attempt with the woman's lawyer claiming that the man wrapped brown tape around his head and mouth before putting his head in a noose.
The prostitute then tightened a shoelace around his neck, with opposing lawyers disagreeing over how tightly it was tied. The defense claimed the shoelace wasn't to blame as it was more elastic than the rope the man used for the noose.
Pamela then left the hotel, as agreed with the man, leaving him hanging in the room. After 90 minutes passed, the woman texted him asking if he was OK but received no reply, reported Heute.
Concerned, the woman returned to the hotel but there was no response from inside the room. When she asked reception to open the room, she claims she was told that "if he is dead, we'll find out tomorrow".
After the woman alerted police to the potential fatality, the hotel opened the door and they discovered the man had died as a result of the night's events.
READ MORE: 'Quick porn': Mayor of German town Quickborn accidentally reveals his BDSM taste on Facebook
An autopsy report found that the man's death was caused by a lack of oxygen to the brain due to strangulation. The coroner also noted that the man would likely have died even if the noose hadn't been used as the shoelace was too tightly knotted.
Although the woman faced a potential 15 years in prison, the judge handed down a two-year sentence, suspended for three years on probation.
You can share this story on social media: