50 Shades of Legally Grey: Federal court strikes down consensual kink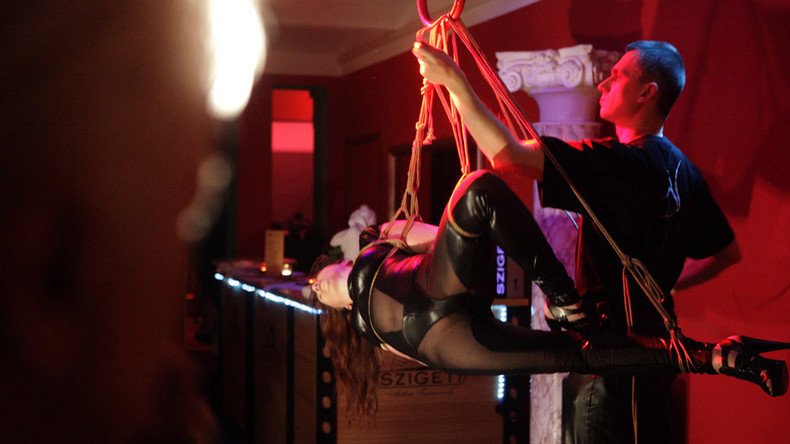 A federal district court has ruled there is no constitutional right to practice consensual BDSM sex in a case over the expulsion of a George Mason University student for having such a relationship. However, a much bigger precedent was set by the case.
At the end of February, Judge TS Ellis of the District Court of the Eastern District of Virginia dismissed the case through summary judgment, noting that GMU had violated Doe's right to due process by not properly handling the appeals process.
"This is the first sexual campus misconduct suit in which the plaintiff won on summary judgment, meaning there is no genuine dispute of material facts," Justin Dillon, Doe's lawyer, told RT. "We want him to get a clean record and to be able to go back to school."
The case centers on a now-former couple, John Doe, a GMU student, and Jane Roe, a student at another university, who had engaged in a BDSM sexual relationship. BDSM refers to bondage, discipline, dominance, submission, sadism and masochism, and may involve biting, choking, spanking, the use of restraints, or other, even more untoward, activities.
As a result of motions made months previous to the decision, Dillon's argument that GMU's administration had "'disregarded' the BDSM context of the relationship and how it 'affected matters like consent and related issues,' and treated a BDSM relationship as 'per se sexual misconduct,'" had been thrown out.
Nevertheless, while ruling Doe's favor, Ellis discussed BDSM in the ruling, rejecting the idea that the Supreme Court's 2003 Lawrence v. Texas ruling that invalidated sodomy laws also created a general constitutional right to sexual autonomy for adults in noncommercial relationships.
"A legislative restriction on BDSM activity is justifiable by reference to the state's interest in the protection of vulnerable persons, i.e. sexual partners placed in situations with an elevated risk of physical harm," Ellis wrote in the ruling. "In this respect, the conclusion… that there is no deeply rooted history or tradition of BDSM sexual activity remains relevant and important to the analysis."
Even though the judge dwelled on the constitutionality of consensual kink ‒ or lack thereof ‒ as well as the use of safe words, the case had actually hinged on whether Doe was able to respond to the specific allegations against him ‒ due process ‒ during the appeals process.
To protect Roe, who was the submissive partner, the pair agreed on a safe word, "red," to be used when she wanted to stop the sexual activity. "Thus, under the rules of the relationship, statements such as 'stop' or physical resistance to sexual conduct were not a withdrawal of consent; only the safe word 'red' would signal a withdrawal of consent," court documents (PDF) said.
During one incident in October of 2013, Doe implied more than once that she wanted to stop while the couple was having BDSM sex. "Plaintiff continued with the sexual activity despite the equivocation, given that Roe did not use the agreed safe word 'red,'" court documents said.
Though the couple broke up a few months later, Doe continued to contact his ex-girlfriend, leading her to report him to her university, and eventually the GMU Police Department. She then met with Brent Ericson, Mason's assistant dean of students and director of the Office of Student Conduct, who knew of previous, unrelated disciplinary action taken against Doe for activities considered a "possible threat to student safety."
In the months after Roe's initial report, GMU police recorded a phone conversation between Roe and the plaintiff, in which she asked him "why [he] never stopped when [she] used the safe word," the court documents said. He replied that he "felt like [she] could handle it." Roe used the recording to press student disciplinary charges against Doe at GMU.
Doe was investigated by a three-member panel of the Sexual Misconduct Board, which held a 10-hour hearing on the matter and found Doe not responsible for violating the student code of conduct. Roe then appealed the board's decision, claiming a "substantial procedural irregularity" had occurred since, "in Roe's view, plaintiff confessed."
Despite his prior involvement in the case, Ericson conducted the appeal himself and found that Doe was responsible for violating the student code. The decision came despite Ericson's admission that he had already prejudged the appeal and found the plaintiff responsible for committing sexual assault on Roe even before meeting with Doe. The plaintiff appealed the ruling to the then-Dean of Students Juliet Blank-Godlove, who "did not review the entire record; rather, she reviewed only those portions of the record identified by Ericson as supporting his decision." Doe was expelled in December of 2014.
In response, Doe sued the school, Ericson, Blank-Godlove and another GMU administrator. With Ellis' ruling, "we won the whole case," Dillon told RT, not long after he filed a brief seeking a remedy for his client on Monday.
GMU is likely to file their own brief next week arguing that, although Doe can return to school, he will have to go through the whole process with the Sexual Misconduct Board again, Dillon said.
Although Ellis' decision is only binding in the Eastern District of Virginia, it could be used as precedent in other BDSM cases. Dillon doesn't think that's likely, however.
The results of this case are "far more important for schools than for BDSM because the school issue [of due process] gets litigated far more often," Dillon said.
You can share this story on social media: