Fifty Shades of… DIY: B&Q to stock more kinky restraints for 'mummy porn' film release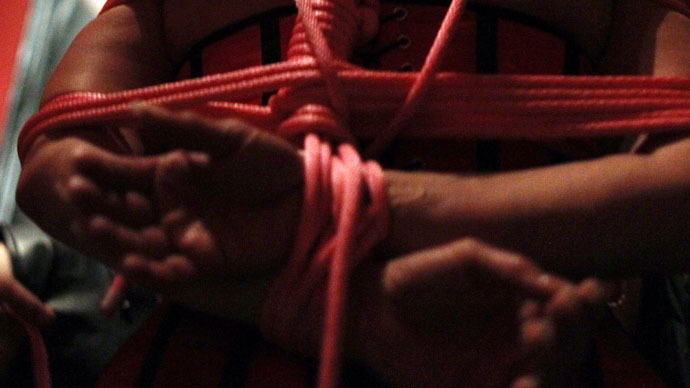 Staff at hardware store B&Q have been urged to brush up on their intimate knowledge of "mummy porn" novel Fifty Shades of Grey and prepare for a heightened demand for cable ties, tape and rope as the BDSM film adaption hits the big screen.
A leaked memo to all 20,887 staff at 359 stores told shop workers to prepare for "sensitive" customer questions about products that could be used to replicate scenes from the movie.
The memo, titled "Staff Briefing – Preparation for Fifty Shades of Grey Customer Queries," says copies of the novel will be available for staff to borrow so they can become experts on the fetish-filled encounters of the lead characters.
"Following the film release of Fifty Shades of Grey, B&Q employees may encounter increased customer product queries relating to rope, cable ties and masking or duct tape," the memo reads.
"Store Managers should anticipate the need for extra stock and store staff should read the following brief to prepare them to handle potentially sensitive customer questions."
Workers are told to deal with any queries customers might have related to the saucy bedroom scenes in a "police, helpful and respectful manner."
The adaption of the bestselling novel, which has been sold in over 50 countries, will be released in cinemas on February 14, Valentine's Day.
READ MORE:Boycott 50 Shades of Grey for 'glamorizing' domestic violence, say activists
The film follows the relationship of Anastasia (Ana) Steele and billionaire Christian Grey, who introduces Ana to his world of sexual role play, domination and bondage – characteristics rarely attributed to the average DIY enthusiast shopping at B&Q.
The film features a scene in a hardware store, where Grey purchases rope, cable ties and tape. The memo says: "We stock many of the products featured in this notable scene and then used later in the film."
It appears the British public are far more interest in alternative uses for duct tape than it might seem. When the book was released in 2012, B&Q experienced a spike in demand for products associated with restraint as shoppers tried to create their own Fifty Shades encounters.
"Understanding the storyline and how some products that B&Q stock feature in the film will better prepare staff for incoming queries," the memo adds.
"Queries may be unusual and sensitive in nature but staff are reminded of B&Q's commitment to assist customers in a polite, helpful and respectful manner. A level of discretion is also advised."
A B&Q spokesperson said: "B&Q remains committed to serving our customers in all their DIY needs and we strive to prepare our staff for any enquiry. Customer satisfaction is always our number one priority."
You can share this story on social media: