Virgin Galactic's SpaceShipTwo returns to the skies 2yrs after fatal crash (PHOTOS)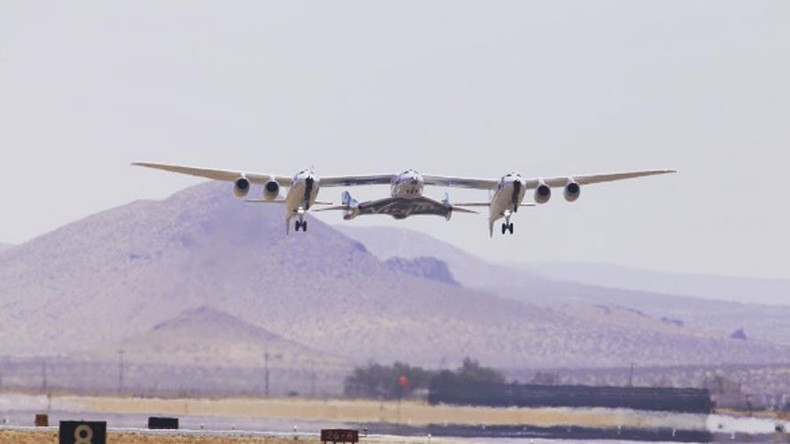 Almost two years after a pilot died in one of its flight tests, Virgin Galactic's SpaceShipTwo had a successful return to the skies, bringing space tourism one step closer.
Dubbed the VSS Unity, it took to the skies Thursday for a "captive carry," which saw the spaceship remaining attached to its carrier aircraft, the WhiteKnightTwo, throughout the flight.
The flight took off from the Mojave Air and Space Port in California and lasted three hours and 43 minutes while hitting a maximum altitude of around 50,000ft (15,000m).
Four test pilots operated the aircraft throughout the flight - two in SpaceShipTwo and two on the carrier aircraft.
The aim of the flight was to capture "high fidelity aerodynamic performance data" on the vehicle, while also allowing the teams gain further experience operating a crewed flight.
After successfully returning to base, Virgin Galactic tweeted to say it had been "an emotional day for us all."
Today's an emotional day for us all. So grateful to our families, customers, & friends for sticking with us. Couldn't open space without you

— Virgin Galactic (@virgingalactic) September 8, 2016
In future tests, SpaceShipTwo will be released from its carrier aircraft and fly on its own, although it is not yet known when this will happen.
Once all the relevant data has been analysed and all requirements met, SpaceShipTwo will be in the business of space tourism, which doesn't come cheap.
Those interested will have to shell out $250,000 to board the spacecraft, which will be released from its carrier at 50,000ft, according to the current plan.
It will then be propelled by rocket to over 50 miles above the Earth, which is the point where you're considered an astronaut, not a passenger, at least in the eyes of NASA and US Air Force.
Thursday's test flight comes just under two years after the company's first SpaceShipTwo, known as the VSS Enterprise, crashed in the Mojave Desert after suffering an "in-flight anomaly" during a test flight.
READ MORE: Virgin Galactic's SpaceShipTwo crashes in Mojave desert killing pilot
One pilot, Michael Alsbury, died in the crash on October 31, 2014, while another, Peter Siebold, suffered injuries.
An investigation by the National Transportation Safety Board found that Alsbury had prematurely unlocked a vulnerable braking system, causing the spacecraft to break apart 47,000 feet over the Mojave desert.
READ MORE: SpaceShipTwo co-pilot initiated error causing crash – NTSB