'My BagDaddy': Norwegian comic turns ISIS leader into 'gay icon' (VIDEO)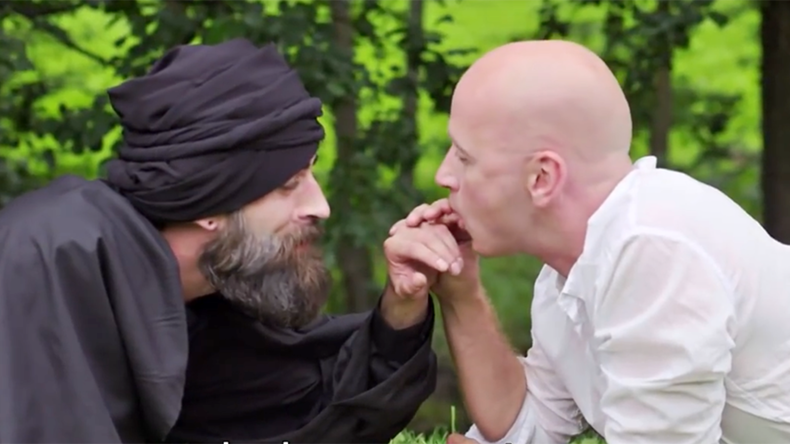 A Norwegian comedian has 'outed' Abu Bakr al-Baghdadi, inviting Islamic State's leader to "cuddle" in a hilarious gay club anthem aimed at fighting terrorism with side-splitting laughter.
Entitled 'My Bagdaddy' the song charts an unlikely love affair between funny man Terje Sporsem and one of the most wanted terrorists in the world, the head of Islamic State (IS, formerly ISIS).
Sporsem was inspired to pen the track following the Pulse nightclub shooting in Orlando, Florida, which left 49 people dead and many more injured.
"I have many gay friends who were afraid, upset and began to doubt things after what happened," Sporsem told Norway's VG newspaper.
"As a comedian I felt then that the best way to react was humor."
He also suggested that al-Baghdadi's truncated name worked quite well lyrically.
The IS leader has a $10 million bounty on his head from the US government, which places him among the top five priority targets on its 'most wanted' list.
Also known as Abu Du'a, al-Baghdadi and the terrorist faction have claimed responsibility for a number of attacks in the Middle East and Europe.
The Iraqi militant has ferociously endorsed IS propaganda in the past. However, Sporsem's spoof music video portrays the terrorist in a softer light, as a man just looking for love and possibly a 'Downton Abbey' date night.
Sporsem's lyrics include the line: "Abu Bakr al-Baghdadi, you have awoken my inner gay" and "Be my daddy, Abu Bakr al-Baghdadi… I'll make you very, very happy… I'm as crazy as a Trump rally."
An actor portraying the bearded IS leader is also seen spanking the comedian with a sword, as the two men then suggestively feed each other sushi by a riverside.
Showing he's not afraid to tear up the dancefloor, Sporsem also twerks in denim shorts alongside performers in feather boas in the track he hopes will undercut the fear surrounding IS.