Danish crowd-funded space rocket crashes into sea (VIDEO)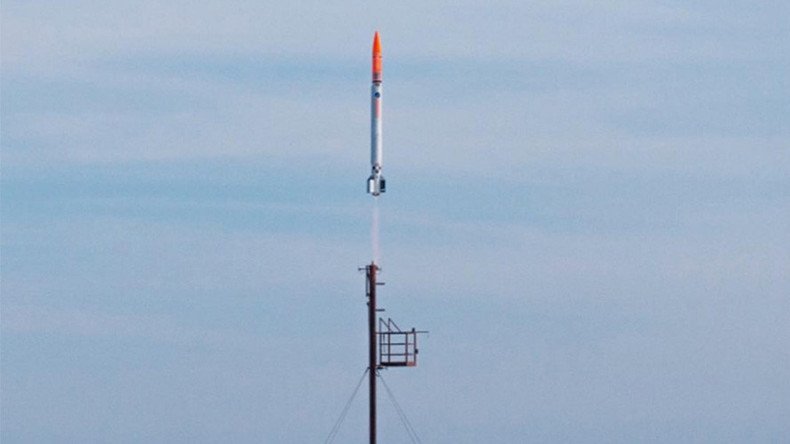 A crowd-funded team of "50 geeks" have failed to complete the launch of an amateur Nexo I rocket from a mobile platform off Denmark's eastern coast. The failure, however, did not discourage the team from aiming for an ultimate goal to send a man into space.
Launched from the floating platform "Sputnik" in the Baltic Sea, the 5.6-meter-long (18ft 4in) Nexo I appeared to rise toward the sky as planned, before crashing into the sea, failing to clear the six to eight kilometers altitude that the engineers have hoped for.
A boat was quickly dispatched to salvage the rocket that suffered very little damage.
Saturday's launch planned to test the rocket's subsystems, thrust vectoring system and parachute descent capabilities. The group behind Nexo 1, Copenhagen Suborbitals, however, said that they are satisfied with the failed liftoff.
The company is already looking forward to the next launch, said communications director Mads Wilson.
"Today has never been more than a test," to see if all different components work, Wilson told TV2 Denmark. "And a very big part of the thing worked. And then there were some things that did not work. Now we are home and we'll find out what it was, so we can correct it to get a better flight with Nexo II."
Copenhagen Suborbitals runs what they call "the world's only amateur space program" that is being developed by a group of 50 amateur space enthusiasts in Denmark. Their lofty goal is to send a man into space onboard a spacecraft called Spica rocket.
Completely crowd-funded since 2008, the company intendeds to implement their dream by testing their technology first on Nexo I and Nexo II rockets before "very similar" technology will be used to build Spica.
READ MORE: SpaceX launch spine-tingling 360-degree video of Falcon 9 landing (VIDEO)
Nexo I, only 300mm in diameter, is a liquid bi-propellant rocket that is designed to run on either polyurethane and liquid oxygen or on polyurethane and liquid nitrous oxide. Nexo I is propelled by its own custom build BPM5 engine and has a Gross Lift Off Weight (GLOW) of 205 kg.
The propellant tanks and the main structure are made of aluminum to keep it as light as possible, while the nose cone and parachute bucket are made of carbon fiber to reduce weight even further. By design, the rocket is supposed to be actively guided by a custom build Guidance and Navigation Computer (GNC).
You can share this story on social media: