#PrayforMunich: World reacts to Germany mall shooting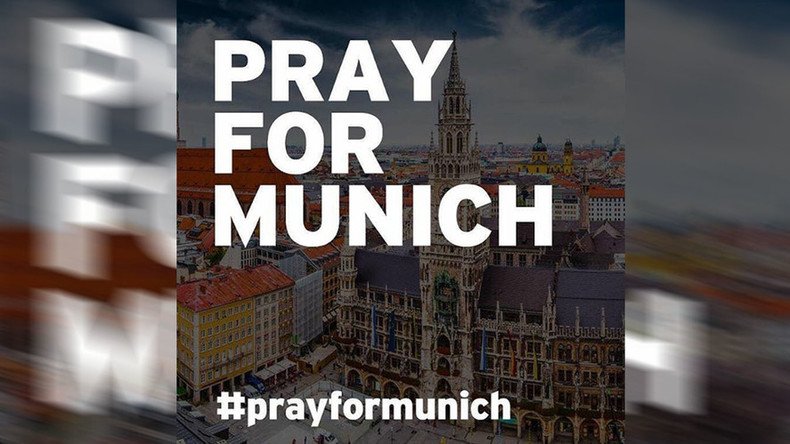 As details of the shooting in Munich continue to emerge, people have taken to social media to express their support and fear over the tragedy.
LIVE UPDATES on Munich mall shooting
READ LATEST: 18yo German-Iranian goes on shooting rampage, kills 9 in Munich
Fewer prayers, 'more action': 'Predictable' social media reaction to Munich attack angers netizens
#PrayforMunich has been used as people share their thoughts, prayers and artwork in light of the attack.
Munich police have posted two updates about the situation, advising people to stay indoors and confirming that public transport has been shutdown.
According to police, witnesses reported three different people with guns and the number of casualties is not known. Police are using all available means of support including federal police and special forces. "Due to the unclear situation we ask all people in the metropolitan area to stay at home or in nearby buildings to seek shelter," they said.
Facebook has activated a safety check for those in the area.
An 'open door' hashtag, #offenetur is being used to offer shelter to people in need.
In the confusion surrounding the event, a number of misleading tweets showing footage from drills and other attacks circulated.
Some have taken to social media to express their frustrations at what they are calling another terrorist attack, and the futility of praying, with some blaming religion for the recent attacks.
Others have pointed to the predictability of tweeting support, using hashtags in light of such attacks, and the pointlessness of it all.
The majority of those online are communicating solidarity and concern for those involved in the unfolding situation.
Some people are sharing pictures of cats in an effort to bury tweets about the suspects, in response to police requests not to share photos of the alleged perpetrators.
You can share this story on social media: