Munich mall shooting: Lone wolf attack 'inspired by Breivik'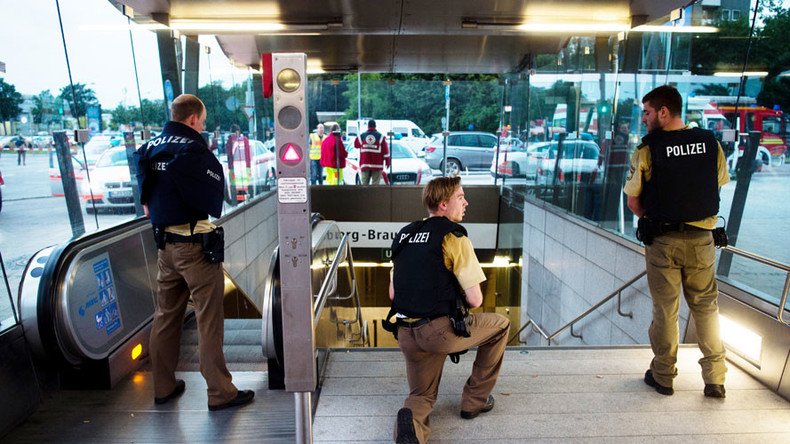 At least 9 people are dead and more than 30 wounded after a gunman opened fire on shoppers in a busy mall in Munich, southern Germany. The perpetrator's body was discovered nearby and bore self-inflicted wounds. His motives remain unclear.
24 July 2016

20:20 GMT

An Afghan teenager, 16, has been detained by police in connection to Friday's Munich Friday shooting, police said in a Facebook post. The detained youngster, whose name was not disclosed, had been a friend of the gunman David Sonboly and police suspects that he knew that Sonboly planned to carry out an attack in the Munich shopping mall in advance but had not reported it to the police.

01:48 GMT

Three Turks are among the dead in the Munich shooting, Turkish Foreign Minister Mevlüt Çavuşoğlu announced, as he disclosed the names of the dead Turkish citizens as Sevda Dağ (born 1971), Can Leyla (born 2001), and Selçuk Kılıç (also born 2001).

"Unfortunately, our three citizens lost their lives. Citizens of the Republic of Turkey, our three brothers lost their lives," Çavuşoğlu said. "We are in contact with families of those who lost their lives," Çavuşoğlu said.

23 July 2016

18:20 GMT

The Munich gunman shot himself immediately after he was approached by a police patrol, Munich police said. "As the police officers addressed him, he suddenly pulled out his pistol, held it to his head and fired a shot," a statement issued by the police says. It occurred about 20:30 local time (19:30 GMT).

17:41 GMT

German Interior Minister Thomas de Maiziere and his Bavarian counterpart, Joachim Herrmann, have visited the area near the shopping mall in Munich where the shooting took place and honored the memory of the victims.

De Maiziere observed a minute of silence as he stood near the mourning wreaths at the incident site. He also visited the McDonald's where the shooting started and the shopping mall. De Maiziere said that he came to show respect for Munich residents and also praised the work of the security forces. He also said that he was impressed by the expressions of condolences sent from all over the world and stressed that it shows that Germany "is not alone."

13:50 GMT

Bild has published an alleged photo of the Munich shooter.

13:45 GMT

Munich Mayor Dieter Reiter said the city has cancelled all festivals and events planned for this weekend. "It's been tough hours for Munich. I am impressed by the residents' overwhelming readiness to help. Our city sticks together," he tweeted.

13:26 GMT

German secret services had no information on the Munich shooter, Interior Minister Thomas de Maiziere said. He confirmed the 18-year-old gunman had no links to Islamic State (IS, previously ISIS/ISIL) or any other terrorist group.

He added that the gunman came from a Muslim family and might have converted to Christianity, given his name was David. "His family came to Germany in the late 1990s as refugees, and the suspect was born [here]," de Maiziere added.

13:22 GMT

The father of one of the victims of the Munich shooting spoke to Ruptly, expressing his shock at his son's death and stressing that the family still cannot believe in what happened. "I'm living as if in a nightmare. I still cannot believe what has happened. Everyone, the whole of our family, cannot believe this," he said.

He also recounted the last moments of his son who was with his friend, when the gunman opened fire. "The friend managed to flee and my son was shot dead," the father said.

12:29 GMT

The German security cabinet has convened in Berlin, featuring Chancellor Angela Merkel, the vice chancellor, interior and defense ministers, and representatives of the intelligence and security services.

12:23 GMT

The 18-year-old German-Iranian suspect was not a refugee but was born and raised in Munich, had mental health problems and does not appear to have been politically or religiously motivated, Bavarian police officials told a news conference on Saturday. They said the gunman shot dead nine people and then committed suicide with a 9mm Glock semi-automatic pistol, and that 300 rounds were found in his rucksack.