Bernie slams 'dictator' Trump's RNC speech, but Sanders supporters split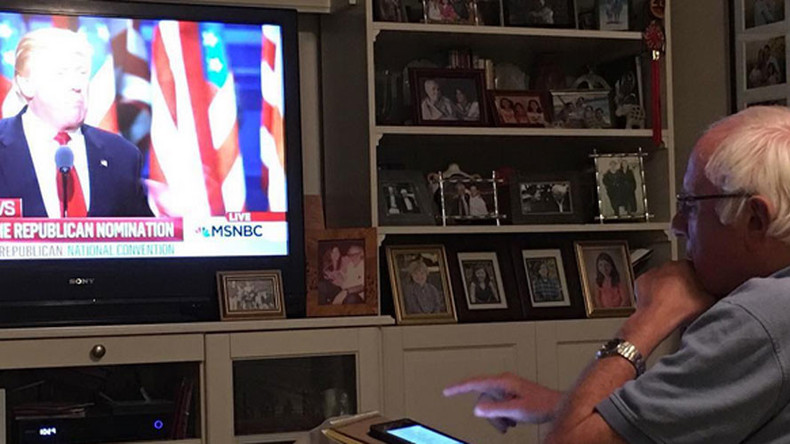 Bernie Sanders got a few mentions during presidential nominee Donald Trump's speech at the Republican National Convention on Thursday but, as he sat and watched events unfold from his living room, the former presidential candidate was not impressed.
"Nobody knows the system better than me, which is why I alone can fix it," Trump said in his nomination acceptance speech. "I have seen firsthand how the system is rigged against our citizens, just like it was rigged against Bernie Sanders – he never had a chance."
READ MORE: 'I am your voice!': Trump vows to put 'America first' in RNC nomination acceptance speech
"But his supporters will join our movement, because we will fix his biggest issue: trade. Millions of Democrats will join our movement because we are going to fix the system so it works for all Americans," he added.
Using the hashtag #RNCwithBernie, the Democrat who recently endorsed his former rival Hillary Clinton, live-tweeted his disgust at the speech, chiefly Trump's blatant efforts to co-opt his supporters.
Sanders did not hold back on Instagram either, maintaining that his supporters would not follow Trump's "bigotry and divisiveness", and even compared him to a "dictator."
Elements of Trump's speech saw him softening towards the middle ground as he reached out to supporters of Sanders. But die-hard fans of the Democrat were having none of it.
Meanwhile, some former Sanders supporters praised Trump's speech, with a number planning to vote tactically in a bid to defeat Clinton.
Celebrities were also quick to give their opinions on the speech - and they didn't have many compliments for Trump.