'I am your voice!': Trump vows to put 'America first' in RNC nomination acceptance speech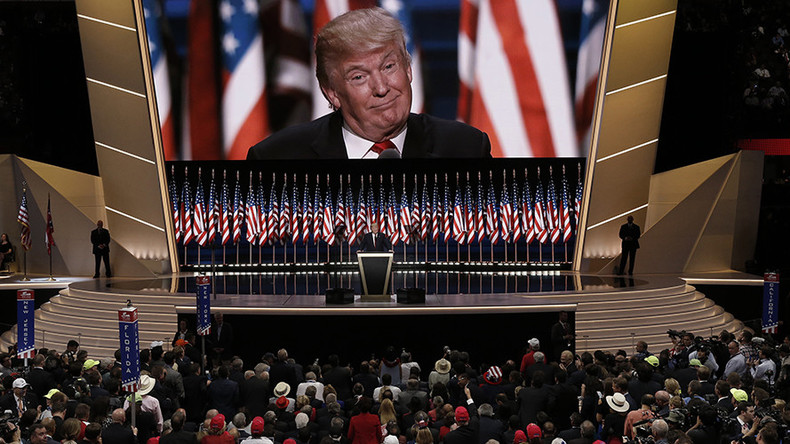 Republican presidential nominee Donald Trump has taken the stage at the Republican National Convention in Ohio to huge applause, giving his long anticipated acceptance speech.
Trump was introduced by his daughter Ivanka Trump, who spoke prior to her father, describing him as the person to "make America great again."
Upon arriving at the podium and announcing that he was humbly accepting the nomination for presidency of the United States, the crowd cheered and chanted, "USA, USA."
Promising to lead his party back to the White House and lead the country back to "safety, prosperity, and peace," Donald Trump accepted the Republican Party nomination for president Thursday night, the fourth day of the Republican National Convention in Cleveland, Ohio.
The billionaire businessman promised to bring law and order back at a time when the nation is in "crisis."
"I have a message for all of you: the crime and violence that today afflicts our nation will soon come, and I mean very soon, come to an end. Beginning on January 20th 2017, safety will be restored," the candidate said, adding, "The most basic duty of government is to defend the lives of its own citizens. Any government that fails to do so is a government unworthy to lead."
He then told the cheering audience, "we cannot afford to be so politically correct anymore."
"So if you want to hear the corporate spin, the carefully-crafted lies, and the media myths the Democrats are holding their convention next week," Trump continued. "But here, at our convention, there will be no lies. We will honor the American people with the truth, and nothing else."
Trump claimed homicides increased by 17 percent in the 50 largest cities last year, calling it the largest increase in 25 years.
The Republican leader turned to illegal immigration, saying the number of new illegal immigrant families who have crossed the border so far this year has already exceeded the total from 2015. This incited boos from the floor.
He then shared the story of Sarah Root, a 21-year-old killed by Eswin Mejia, an illegal immigrant, who is now a fugitive.
Trump moved on to the Obama administration, criticizing it for for how it ran the economy.
"President Obama has doubled our national debt to more than $19 trillion, and growing. Yet, what do we have to show for it? Our roads and bridges are falling apart, our airports are in Third World condition, and forty-three million Americans are on food stamps."
He also blasted the foreign policy of President Barack Obama.
"Another humiliation came when President Obama drew a red line in Syria – and the whole world knew it meant nothing," adding, "In Libya, our consulate – the symbol of American prestige around the globe – was brought down in flames. America is far less safe – and the world is far less stable – than when Obama made the decision to put Hillary Clinton in charge of America's foreign policy - let's defeat her in November."
Hillary Clinton was next, specifically her record as secretary of state.
"In 2009, pre-Hillary, ISIS was not even on the map," Trump said. "Libya was cooperating. Egypt was peaceful. Iraq was seeing a reduction in violence. Iran was being choked by sanctions. Syria was under control. After four years of Hillary Clinton, what do we have? ISIS has spread across the region, and the world. Libya is in ruins, and our Ambassador and his staff were left helpless to die at the hands of savage killers. Egypt was turned over to the radical Muslim Brotherhood, forcing the military to retake control. Iraq is in chaos."
"Iran is on the path to nuclear weapons," Trump went on, "Syria is engulfed in a civil war and a refugee crisis that now threatens the West. After fifteen years of wars in the Middle East, after trillions of dollars spent and thousands of lives lost, the situation is worse than it has ever been before. This is the legacy of Hillary Clinton: death, destruction and weakness."
Trump followed up by pivoting to his own plan to "put America first."
"Americanism, not globalism, will be our credo. As long as we are led by politicians who will not put America First, then we can be assured that other nations will not treat America with respect. This will all change in 2017."
"There can be no prosperity without law and order," Trump said.
For the US economy, he promised millions of new jobs and trillions in new wealth. The real estate mogul switched back to Clinton, accusing big business, elite media and major donors of backing his opponent, as they know she will keep "our rigged system in place."
"They are throwing money at her because they have total control over everything she does. She is their puppet, and they pull the strings."
Transitioning back to himself, Trump recalled visits to laid-off factory workers and the communities affected by unfair trade deals, calling them "the forgotten men and women of our country" and declaring passionately, "I am your voice."
Trump promised to stand by the "innocent people" suffering as a result of the political system, garnering loud applause from the crowd.
Singling out Clinton again, he blasted her as corrupt for her email scandal.
"When a secretary of state illegally stores her emails on a private server, deletes 33,000 of them so the authorities can't see her crime, puts our country at risk, lies about it in every different form and faces no consequence – I know that corruption has reached a level like never before."
"Nobody knows the system better than me, which is why I alone can fix it," Trump proclaimed.
Speaking about Clinton's former opposition for the Democratic presidential nomination, Senator Bernie Sanders of Vermont, Trump said he never had a chance.
"The system is rigged," he said, adding confidently that Sanders supporters will join his movement for their similar stance on trade issues.
Discussing the recent violence against police, Trump declared, "an attack on law enforcement is an attack on all Americans."
Addressing the scourge of Islamic State (IS, formerly ISIS/ISIL) attacks and the recent terror attack at a gay nightclub in Orlando, Florida, he promised to protect "the LGBTQ community."
The Republican nominee vowed to fight terrorism in the Middle East, and said this includes working with "our greatest ally in the region, the State of Israel."
He also vowed to clamp down on immigrants from countries that pose a terror threat, without specifically referring to it as a ban on Muslims.
"I only want to admit individuals into our country who will support our values and love our people," he said, adding, "Anyone who endorses violence, hatred or oppression is not welcome in our country and never, never will be!"
Trump then spoke of three American families he had met, who had children killed by illegal immigrants, and pledged, in their honor, that he would save countless more families from suffering the same awful fate.
"We are going to build a great border wall to stop illegal immigration, to stop the gangs and the violence, and to stop the drugs from pouring into our communities."
He promised to work with US Border Patrol agents to protect the integrity of "our lawful immigration system."
"On January 21st of 2017, the day after I take the oath of office, Americans will finally wake up in a country where the laws of the United States are enforced."
Vowing to be considerate and compassionate to everyone, Trump guaranteed the greatest compassion would be for struggling US citizens.
Trump called Clinton's immigration policy "radical and dangerous" and called himself the antidote to that.
The billionaire businessman said he would now "make our country rich again," creating jobs all over America.
"I am not going to let companies move to other countries, firing their employees along the way, without consequences."
He declared he would never sign bad trade deals, but would instead put "America First" even if that meant entering smaller trade deals with individual countries.
"Our horrible trade agreements with China and many others, will be totally renegotiated. That includes renegotiating NAFTA to get a much better deal for America – and we'll walk away if we don't get the deal that we want."
Trump gave his word to reduce taxes, proposing what he called the largest tax reduction of any candidate who has declared for the presidential race this year, Democrat or Republican.
Making some big promises, he affirmed his economic policies would result in trillions of dollars "flowing into our country."
"This new wealth will improve the quality of life for all Americans – We will build the roads, highways, bridges, tunnels, airports, and the railways of tomorrow. This, in turn, will create millions more jobs. We will rescue kids from failing schools by helping their parents send them to a safe school of their choice."
He also ensured that college students in massive debt would get relief, that he would rebuild the "depleted" military, and that veterans would be taken care of.
"My opponent dismissed the VA scandal as being not widespread," Trump said, "one more sign of how out of touch she really is. We are going to ask every Department Head in government to provide a list of wasteful spending projects that we can eliminate in my first 100 days."
He claimed that unlike other politicians, he would actually do it, to which the crowd responded in chants of "Yes, you will."
He thanked the evangelical community for their support, saying humbly he is not sure he deserves it. He said he would work hard to give them their voice back and protect free speech for all Americans.
He thanked his wife Melania and his children, Don, Ivanka, Eric, Tiffany, and Barron. He also paid tribute to his late father Fred Trump, who he said taught him "the dignity of work and the dignity of working people."
He also spoke warmly of his mother, brothers and sisters.
Coming to the end of his speech, he acclaimed, "it's time to deliver a victory for the American people."
He also bashed the naysayers who said he would never become the Republican candidate.
Comparing his pledge to Clinton's slogan "I'm with her," he said his pledge reads, "I'm with you, the American people. I am your voice."
He concluded by saying, "I make this promise: We will make America strong again. We will make America proud again. We will make America safe again. And we will make America great again."
There were many promises made, even for a speech that went well over an hour long, making the scene all the more memorable when Trump's family joined him on stage to the sound of "You Can't Always Get What You Want" by the Rolling Stones.
You can share this story on social media: