Is that a gun in your Speedo? Armed lifeguards to patrol French beaches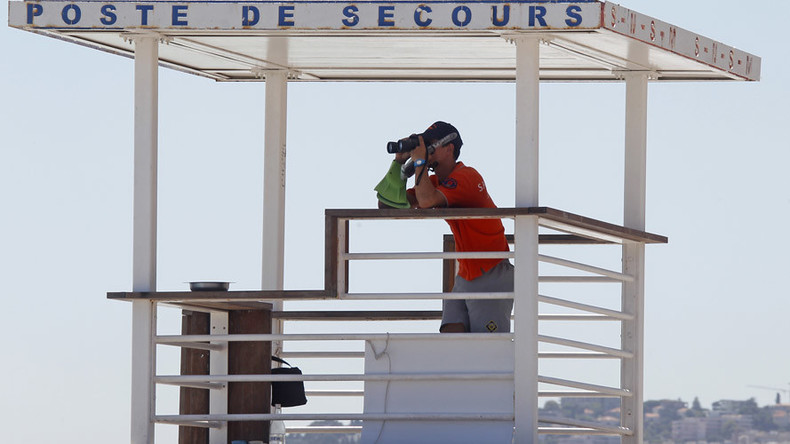 French lifeguards are about to get a big bulge in their swimming trunks, thanks to new efforts to combat terrorism at the country's world famous beaches.
While sharks and skin cancer are usually the two biggest threats for the sun and surf set, leaders of Compagnies Républicaines de Sécurité (CRS), the national police's special forces unit, believe recent terror attacks justify packing weapons in the custom-designed holsters.
One of the rank-and-file officers ridiculed the idea in UK newspaper the Telegraph.
"It is necessary to keep police and tourists secure on beaches, but not in this manner. I don't like the idea of a CRS officer intervening with a gun and a bulletproof vest while in swimming trunks," said the anonymous cop.
Last year, 460 unarmed CRS officers patrolled the beaches, but this July and August it will be just 297 since many are busy policing rowdy soccer fans during the European Cup, according to LCI. One third of them will be armed.
Nicolas Comte from the SGP-FO police union told Europe1 radio that the decision to arm lifeguards was a "win-win situation for everyone" and that tourists "will not see police in heavy armor, they will see lifeguards."
Bulletproof vests will be available near the lifeguard's post.
"We can see these days that the police are the target of terrorists, but this is also to ensure the police are ready to respond in the event of an armed attack," Comfe said, referring to the June 13 attack in which a police officer and administrator were stabbed to death at their home west of Paris in Magnanville by a 'lone wolf' claiming to be inspired by an Islamic State (IS, formerly ISIS/ISIL) spokesman.
READ MORE: 'I am the police': French Muslims rally to honor police officers killed by extremist
You can share this story on social media: